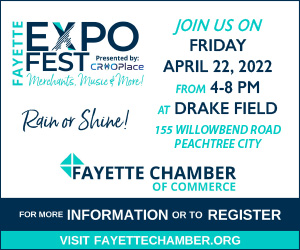 EXPOFEST HAPPENING APRIL 22
The Fayette County EXPOFest returns Friday, April 22 to showcase the county and offer a venue for residents to reconnect, meet small business owners and learn how to get involved in the community. Visitors will enjoy food trucks, live music, and more at Drake Field in Peachtree City, from 4 to 8 p.m.
Hosted by the Fayette Chamber of Commerce, the EXPOFest is Fayette County's largest business-to-consumer event.
"We need to support our local community now more than ever. Shopping local keeps our economy strong and our leaders in business," stated Chamber of Commerce President & CEO Colin Martin.
The EXPOFest is an informal open house format annual event where local groups and businesses put up tables, greet residents and showcase their goods and services.
New for 2022 is a new location at Drake Field and an opportunity for exhibitors to share job openings. While the EXPOFest is not a job fair, visitors will be able to discover who is hiring in the community.
Drake Field is located next to the lake at 155 Willowbend in Peachtree City.
Exhibitors can register by visiting EXPOFest Exhibitor Registration.
Cathy Schwartz, the Chamber's Events Manager, said "Our event truly represents our area, and we want everyone to know that Fayette County is a great place to live, work and play."
Sponsors for this year's event are The CRYOPlace, BMW of South Atlanta, Cancer Centers of America, Children's Healthcare of Atlanta, Coweta-Fayette EMC and Georgia Power.