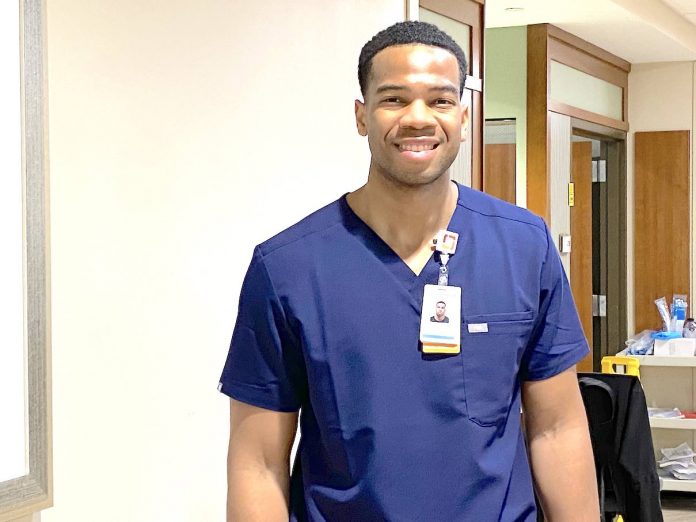 Piedmont Fayette Hospital has worked closely with Fayette County Public Schools since the hospital's inception in 1997. One area of particular focus for the two organizations has been workforce development.
Students interested in exploring or pursuing careers in a number of different fields start by taking classes at their schools and later through the Center of Innovation where many classes are dual enrolled through Southern Crescent Technical College. Part of the healthcare pathway involves students participating in rotations at Piedmont Fayette.
Students with a particular interest in healthcare can graduate with certificates in several different areas, including Certified Nursing Assistant and Phlebotomy.
One such student is Logan Times, who graduated with both certificates, worked at Piedmont Fayette throughout college, and was recently hired as an RN in the hospital's intensive care unit (ICU). His journey through the program and onto the hospital's staff is a perfect example of how officials in the school system and in the hospital envisioned everything working.
"There is a need to create the next generation of healthcare workers," said Steve Porter, Piedmont Fayette's CEO. "We knew it was a necessity prior to the pandemic and that need has only grown more dire since."
Times started in the healthcare pathway in his sophomore year of high school and got more interested in healthcare as a career as time went on. He began rotations in nursing homes in his junior year and started to work towards the CNA and phlebotomy certifications the summer before his senior year. He had a phlebotomy rotation at the hospital during his senior year. Earning the certifications meant he'd be able to work in those positions right after high school.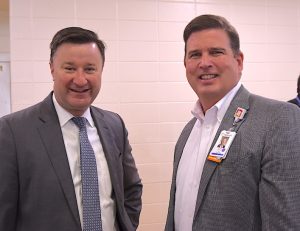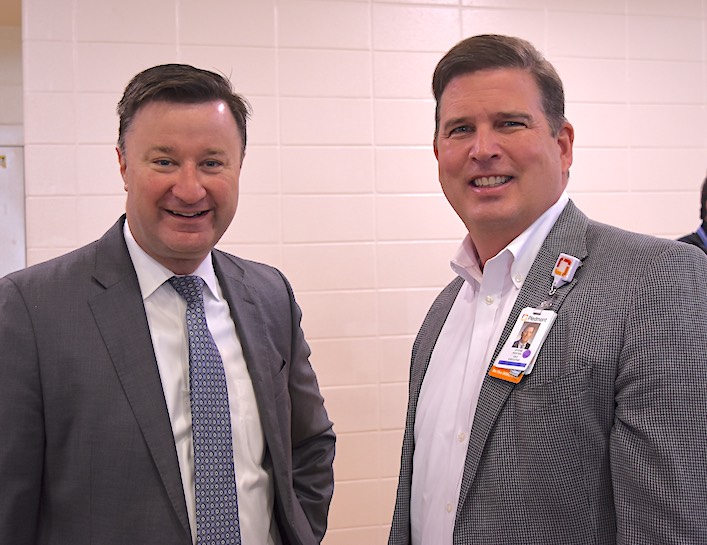 Times started in Transport at Piedmont Fayette but transferred to be a patient care technician, the equivalent of a CNA, in the ICU and the intermediate care unit (IMCU) soon after.
"I knew at that point that I wanted to get into nursing and knew that it would be good for my resume if I started building experience with patients," Times said.
He started the Bachelors in Nursing program at Clayton State University and continued working at Piedmont Fayette throughout school. By the time his program began clinical rotations in the ICU/IMCU at Piedmont Fayette, Times knew the physicians and staff, was familiar with policies and procedures, and knew his way around the hospital. He was several steps ahead of his cohort.
Times was also well-versed in caring for Covid-19 patients as both units had primarily been Covid units since March of 2020. In early February of this year, Times was hired as an RN at Piedmont Fayette. He got a different badge, some new scrubs, and a pay increase.
"This is the perfect example of the wonderful opportunities that can exist for students when school systems and industry partners work together, creating a pipeline of future employees," said Marci Hanson, Student Placement Administrator for Piedmont Fayette.
Fayette County Public Schools offers numerous career pathways for students, including education, financial services, film, and many more. There are several options in healthcare including allied health and medicine, patient care, and emergency response.
"Fayette County's Career and Technical Education Programs deliver for our students and for our local community," said Lisa Collins, Director of Career and Technical Education for Fayette County Public Schools.
"Our partnership with Southern Crescent Technical College and Piedmont Fayette Hospital has resulted in health science pathways that allow Fayette's young people to develop the skills and confidence needed to get on a path to success in a high-wage, high-skill, in-demand health science career field aligned to students' aptitudes and interests," Collins said.
Times is an example of what is possible for a motivated student. He has launched his career with zero college debt and is flourishing.
"I've only been an RN for a few weeks now, but I'm really enjoying it," Times said. "Toni (Wilburn) is my preceptor. She is showing me things and letting me learn, but she knows I have some experience and is helping me build off of what I know."
Times feels fortunate to have built up so much experience at Piedmont Fayette. He briefly looked at other hospitals, but felt the cultures didn't measure up.
"This is a strong and supportive staff at Piedmont Fayette and everyone's genuinely nice. It's a good mix of young and experienced nurses," Times said. "I just want to be a really good nurse and continue to improve and I know I can do that here."
For more information on Piedmont Fayette Hospital, visit piedmont.org/Fayette. For more information about work-based learning programs and career pathways through Fayette County Public Schools, visit fcboe.org/cte.