"I couldn't get down on the ground if I dropped something. Now I have no problem getting down and getting up."
"I used to have calf cramps every night. Now I don't have those."
"I hurt everywhere when I first came, and now I don't hurt anywhere."
These are just a few of the life-changing stories told at a Building Better Bones class at ProHealth Physical Therapy and Pilates Studio in Peachtree City.  As friends arrived, one by one, for a Friday morning class, smiles and greetings filled the room. They were as happy to talk about the benefits of the class they love so much as they were to see each other.
"I can definitely tell a difference in my balance," said a 73-year-old woman who has been coming to the studio for about three months.  "My doctor says to keep doing what I'm doing."
"In 2019, I was starting to fall apart," another woman said. "I do a lot of gardening, and I was falling. I started to come here and I could see the difference immediately."
Another woman enrolled after receiving a shocking osteoporosis diagnosis four years ago. She had no symptoms and only did a bone test because she realized her height had shrunk an inch. 
"I forget how many fractures I have, at least five, and they wanted me to go on medication, but I said, let me see what else I can do."
That's when she discovered ProHealth's Building Better Bones class. Subsequent bone scans indicate no change in her osteoporosis, and her disease is stable so far without medications.
The National Institute of Health recommends Weight-bearing and resistance exercise for preventing osteoporosis and fractures. The Building Better Bones class answers NIH recommendations for exercise routines that build muscle mass and strength while improving coordination and balance.
Terri Wilson has been teaching the class since shortly after she joined the team at ProHealth in 2018. A certified Pilates and wellness instructor, she has been passionate about exercising since she was a teenager. 
"I absolutely love teaching women to feel good about themselves and how to feel stronger," Terri says. 
When Terri took over the class four years ago, she challenged participants to progress. 
"The way to strengthen your muscles and bones is to increase resistance carefully and strategically," she says. "Even if they sit in a chair, they still get stronger. And then pretty soon they're out of the chair, and then they're doing wall squats, and then they're holding themselves up, and then they're doing pushups."
Terri leads the 50-minute fitness class on Tuesdays and Fridays at 11:30 a.m. The routines are especially helpful for women who have osteoporosis, osteopenia, or spinal stenosis, but the class is open and beneficial to all. 
"Everyone is welcome to join the group," Terri says. "I can't stress that enough."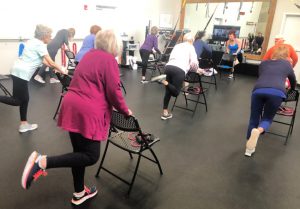 Terri is careful to match the movements to each person's physical condition and abilities, making sure people bend over safely, avoiding aggravating any conditions they may have.
One member of the class talks about the challenge of maintaining balance as she gets older. She loves Terri's cues. 
"Think of a tripod under each foot," she said. "Steady yourself over that tripod. That's a mental thing that really works for me."
Others talk about the fun atmosphere.
"She makes it fun for us! We're not stressed out."
You can attend the class in person or virtually. And online participants are just as involved as those who come to class in person. All you need for the virtual option is a tablet or laptop. When you register for the virtual option, you receive a zoom link, and all you have to do is click on it.
The class usually calls for an exercise band and small weights, but Terri customizes the routines to whatever tools virtual participants have on hand.  For instance, in one session, a virtual attendee had only one weight,  so Terri said, "Alright, we're going to use that weight."
She gives the group instructions and also encourages people by name, even when they're online.  "Let's see your fancy kitchen girl," she calls out playfully to a regular virtual participant who lives in Serenbe.
Her main goal is to keep everyone moving.
"Movement is the key to life," she says. "Sitting in a chair, if you don't move, everything breaks down. Your bones get fragile, your organs get fragile, your brain gets goopy."
For more information about the Building Better Bones class, call 770-487-1931 or visit ProHealth's website.
About ProHealth Physical Therapy and Pilates Studio
ProHealth Physical Therapy and Pilates Studio was founded in 2005 by Dr. Karyn Staples, PT, PhD, NCPT. She leads a staff of more than a dozen physical therapists, Pilates teachers, and office support staff in providing effective research-based therapies and exercise.
ProHealth is located at 1777 Georgian Park in Peachtree City. For an appointment for physical therapy, call 770-487-1931.
If Pilates exercise is something you would like to explore, private lessons and classes are available throughout the week at ProHealth. Call or view the schedule online.