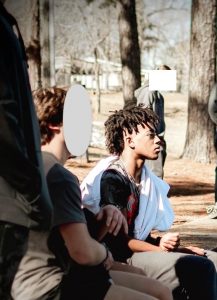 UPDATED FEB. 15— A Feb. 10 traffic incident off Ga. Highway 74 South near Peachtree City claimed the life of 16-year-old Russell Logan after he was struck by a drunk driver while walking along Brechin Drive near his home, according to Fayette County Sheriff Barry Babb and other sources. The driver has been arrested.
The department's Traffic Enforcement Unit is investigating a pedestrian fatality collision which occurred on Brechin Drive, off Hwy. 74 South near Starr's Mill High School.
The teenaged victim was a 10th-grade student at Starr's Mill, The Citizen has learned. A prayer service for the family and friends has been set for tonight at Southside Church, 777 Robinson Rd., Peachtree City.
The victim has not been officially identified by the department.
"Initial information from the scene indicates that Robert Lee Stevenson was driving a 2000 Pontiac Grand Prix northbound on Brechin Drive and crossed the southbound lane striking a 16-year-old male. The male victim was transported to Piedmont Fayette Hospital where he was pronounced deceased," said Babb.
Babb noted that the 16-year-old was walking southbound on Brechin Drive at approximately 10:06 p.m. when he was struck by the oncoming vehicle.
Robert Lee Stevenson, 60, who has a Senoia address that is located in Fayette County just south of Peachtree City, was taken into custody a short time later and is charged homicide by vehicle – first degree, DUI alcohol, leaving the scene of an accident, failure to stop at an accident with damages, open container, failure to maintain lane, reckless driving and littering highway.
Sheriff Babb noted that Stevenson had two prior DUI charges.
Stevenson's residence on Bontura Drive is in the subdivision where the incident occurred.
Brechin subdivision has Senoia mailing addresses.
Babb thanked the Peachtree City Police Department and the Fayette County Marshal's Office for their assistance during the investigation at the scene. — Additional reporting by Cal Beverly.