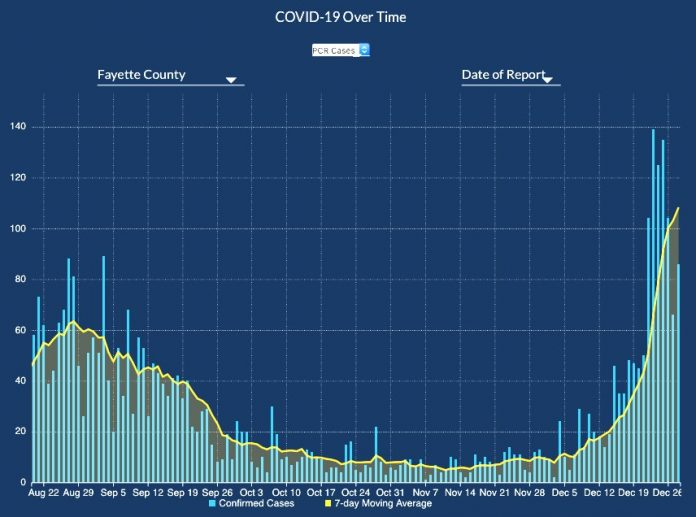 With Covid testing lines curling around testing centers, Fayette County on Dec. 28 recorded peak numbers of new cases, in both single-day and 2-week tabulations.
Test-confirmed cases in Fayette totaled 516 for the 5-day period Christmas Eve through Tuesday, Dec. 28, according to data from the Georgia Department of Public Health.
The 2-week number of new cases hit 1,065 Tuesday, which eclipses the previous record of 820 set Sept. 1 during the third wave of the coronavirus pandemic.
Similarly. the 2-week positive testing rate of new cases has ballooned from 2.8% on Dec. 1 to its current record level of 19.2%. The 2-week rate measures the percentage of test-confirmed new Covid cases over a 14-day period. In other words, where at the beginning of December of 100 persons who got tested, about 3 of them tested positive for the Covid infection. That now has risen to 19 persons testing positive out of every 100 tested persons. A rate of 5% is considered high.
That's a component of why Fayette County is listed in the dark red of the state's hot spot map for highest infection rates in Georgia.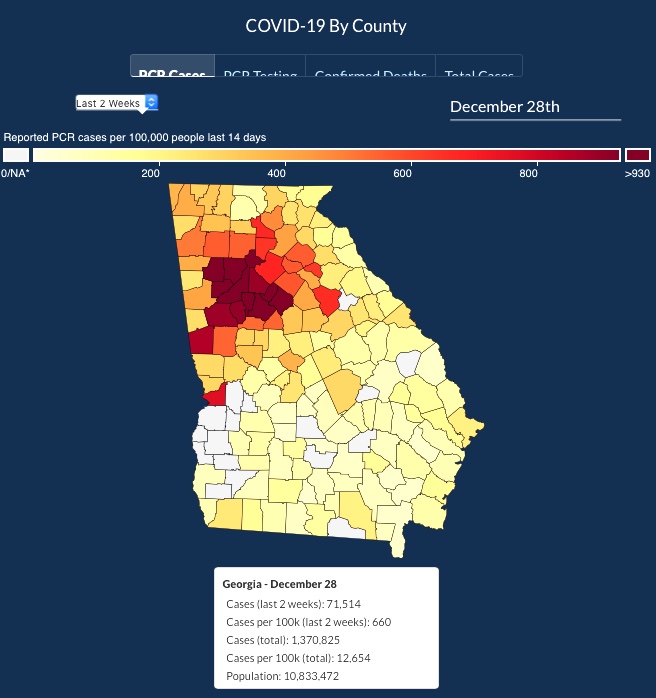 While testing numbers show an explosion of new Covid cases — whether the delta or omicron variants is unknown — the hospital admissions for Fayette residents is not so dramatic. DPH data show 64 hospital admissions for confirmed Covid cases among Fayette residents since Dec. 1, 20 of them since Dec. 23.
CDC estimates of omicron versus delta numbers underwent a revision in recent days, causing some confusion about how widespread the milder omicron variant really is.
Deaths attributed to Covid are a trailing indicator, meaning fatalities lag infections by more than a week. By that measure, Fayette has recorded 5 fatalities due to Covid since Dec. 1.
The DPH charts above and below show the state hot spots — mainly the Atlanta metro area — 7-day rolling averages of new cases, statewide hospital admissions, and statewide numbers of Covid patients.