For Fayette County and for much of the Atlanta metro area, the infection rate, speed of increase and number of Covid-19 infections are at the highest levels of the entire 22 months of the pandemic, according to data from the Georgia Department of Public Health on Christmas Eve, Dec. 24.
Test-confirmed infections are surging to new records, as depicted in the accompanying charts focusing on Fayette County numbers. In fact, the entire Atlanta metro area has become the hot spot in Georgia, as shown in the accompanying map above.
With 10,863 confirmed Covid cases reported in Fayette since March 2020, the county is now reporting 2-week numbers of new cases comparable to the peak of the so-called third wave last summer. The difference is that the summer 2-week peak of 820 on Sept. 1 took a month to get that high.
This omicron variant-driven surge the county is now experiencing is taking about half as long to reach those peak numbers. Fayette has recorded 3 successive days of 100-plus cases: 106 on Dec. 22, 139 on dec. 23, and 124 on Christmas Eve, Dec. 24, as shown in the DPH graph below.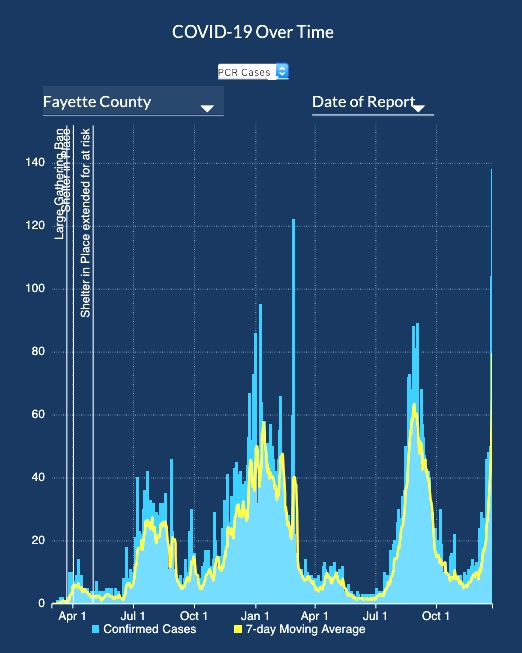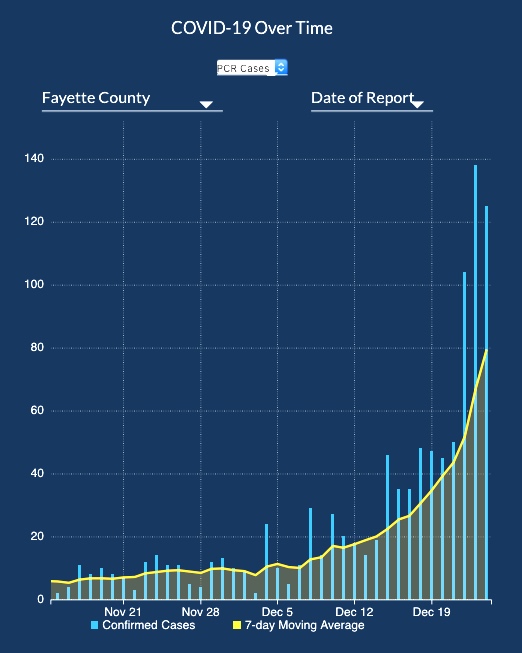 The closely watched 2-week rate of positive test results — indicating active Covid infections — has risen from just under 3.0% on Dec. 3 to 13.5% on Dec. 24, a span of 3 weeks, a raw jump of more than 10 points. That's unprecedented during the pandemic.
New admissions to the state's hospital intensive care units continues to be relatively low — just 49 statewide since Monday, Dec. 20.
According to state health data, currently hospitalized Covid patients currently represent just 6.8% of all hospital patients, down from last summer's high of more than 34% of all state hospital patients.