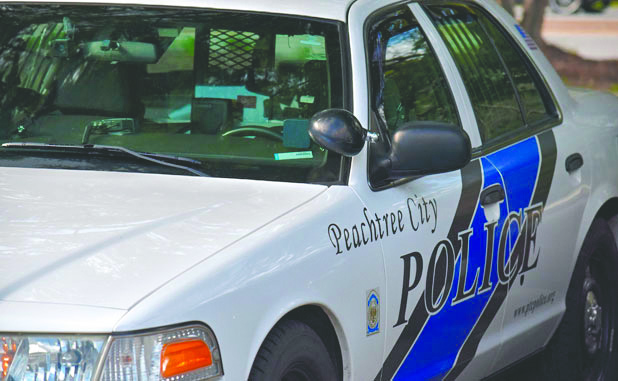 It doesn't pay to get drunk on a night out and then become combative with police who arrive at the scene. It makes matters worse when the person spits in the officer's face while being placed in a patrol car.
That is what happened on Dec. 18 when officers at around 1:30 a.m. arrived at the Tavern on 74 on Ga. Highway 74 North in response to a possible female overdose.
"Upon arrival, the female was found to be awake and responsive, although very intoxicated," the police report said. "While speaking with officers and medics, the female began to become combative and disorderly, resulting in her being placed under arrest. After being arrested the subject then committed simple battery on a law enforcement officer."
Peachtree City Police Department spokesman Chris Hyatt said along with being combative, the woman also spit in an officer's face.
Elizabeth G. Henderson, 38, of Sharpsburg, was charged with being drunk in public and simple battery against police, according to Fayette County Jail records.
A separate incident on the previous night makes the point about what can happen while driving under the influence on a golf cart.
A Peachtree City officer on Dec. 17 at approximately 12:17 a.m. responded to the Tavern on 74 in reference to a domestic dispute involving an intoxicated subject who was attempting to leave the area on a golf cart, according to a police report.
The officer located the subject and conducted a traffic stop. After an investigation, Justin Gillis, 37, of Peachtree City, was placed under arrest for driving under the influence, the police report said.
In another case, this one in unincorporated south Fayette County, a woman on Dec. 18 who parked her car and went for a walk at Lake Horton got a surprise when she returned.
Having started the walk at 9:50 a.m. and returning just after 11 a.m., the woman found one of the windows on the vehicle had been broken and her purse stolen, said Sheriff Barry Babb.
The Lake Horton Boat Ramp on Antioch Road rarely sees entering auto activity, though this was the second time a break-in has occurred in recent weeks.
In today's world, motorists should never leave anything of value in sight in their vehicles. Doing so is an open invitation to criminals intent on taking something that does not belong to them.