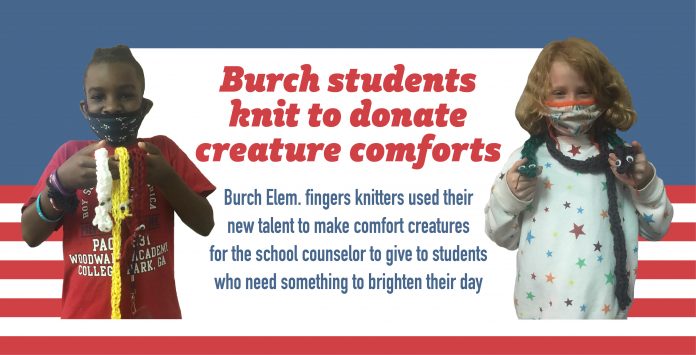 The handmade creations of some talented Robert J. Burch Elementary students are bringing creature comfort to kids who need a pick-me-up. The newly-minted master finger knitters have been busy building fuzzy creatures just as fast as their fingers can fly.
The creations were a STEAM project for 4th graders in art teacher Elise Wheatley's class. They were challenged to create creatures out of yarn only using their fingers.
After first learning about the process of knitting with their fingers, they experimented with a single stitch and a 4-finger stitch. Once the students mastered finger knitting, they had to research how long their stitched piece needed to be in order to create their creatures and how to connect the pieces together to make the correct shapes. To finish up their pieces, they used hot glue to attach eyeballs.
Now that the students are master finger knitters, they are making more and more creatures. They used their skills to give back to the school by donating comfort creatures to school counselor Jessica Mull, where she will be able to give them to students who need something to brighten their day!
Wheatley hopes their movement keeps growing.
"This is just the beginning!" she said. "Eventually, we would love to connect with other organizations out in the community to donate some creatures to help spread joy."