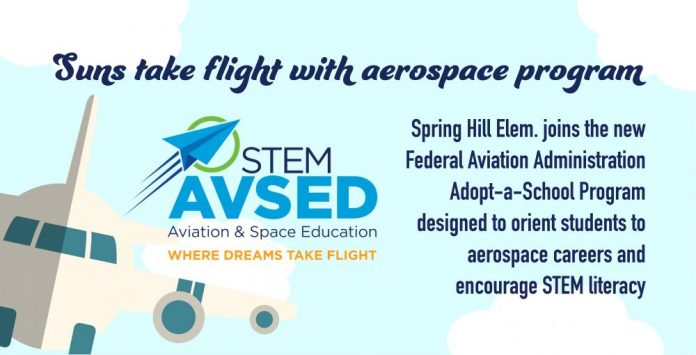 The Suns are ready to take flight! Spring Hill Elementary has been selected for the new Federal Aviation Administration (FAA) Adopt-a-School Program designed to help orient students to aerospace careers and encourage STEM literacy.
The Adopt-a-School Program is a six-lesson commitment between the school and FAA. Over the course of fall 2021, FAA experts will deliver hour-long lessons that introduce aerospace concepts, emphasize the importance of STEM literacy, and raise awareness for exciting careers in the industry.
Spring Hill Elementary was identified as the first participant in the Southern Region and one of just nine schools around the nation. Schools were selected based on a combination of factors, including diverse populations, proximity to FAA facilities, and the location of potential partners.
For the program, the FAA has developed six lessons geared toward 4th grade, with topics ranging from drone operations to space tourism, as well as fun activities. The lessons reflect the FAA mission to maintain the safest, most efficient aerospace system in the world, and aim to build a more diverse workforce for our industry.
"We aim to form lasting relationships in the community, to serve as role models, and to help facilitate connections with our partners," said Michelle Christensen, with the Aviation Workforce and Education Division of the FAA. "We are excited to join with Spring Hill Elementary School in an effort that is not only beneficial for students and teachers but the community as well!"