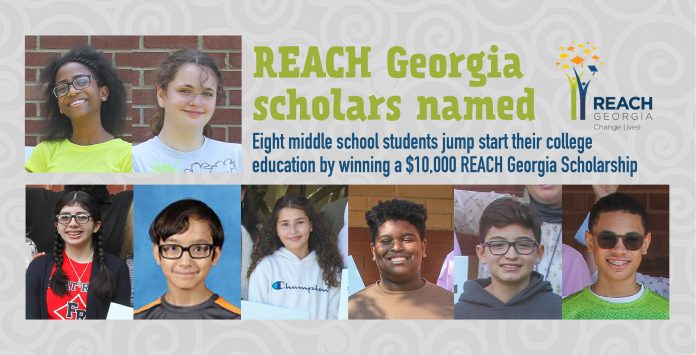 Eight Fayette County middle school students have a leg up on their college education after winning a $10,000 REACH Georgia Scholarship.
A total of eight winners were announced, with each of the county's five middle schools represented. Bennett's Mill's winners are Neriah Bradley and Charity Richards. Flat Rock's winners are Valeria Suarez and Avery Vo. J.C. Booth's winner is Kenza Lezoul. Rising Starr's winners are Israel Gedeon and David Powell. Whitewater's winner is Gabriel Gray.
REACH Georgia is a statewide needs-based mentorship and scholarship program. It provides academically promising students who have a demonstrated financial need with the academic, social, and financial support to help make their dreams of college and a bright future a reality.
REACH Georgia applicants fill out an application in the spring of 7th grade, and recipients are selected and announced in fall of their 8th grade year. In a fall signing ceremony, scholars sign a contract along with their parent/guardian to maintain a 2.5 HOPE GPA, continue to have good behavior and school attendance, and to meet with a volunteer mentor and academic coach throughout high school.
When REACHGa scholars graduate, they receive a $10,000 scholarship which can be used at any Hope-eligible college, university, or technical school in Georgia. Many of these students may be first in their family to go to college.
The REACHGa scholarship program is possible thanks to the generous support of many. For each scholar, $4,000 is raised in contributions from local businesses and the community, with the remainder coming from the state REACHGa Foundation funding.
To help support the program for the coming year, contact Fayette County Education Foundation treasurer Melinda Berry-Dreisbach via email at berrydreisbach.melinda@fcboe.org or call 770-460-3535. Donations in the form of checks or money orders can be mailed to Melinda Berry-Dreisbach, Fayette County Board of Education, 205 LaFayette Avenue, Fayetteville, Georgia 30214. Please indicate on the check or money order that the donation is for the REACH Georgia Scholarship.