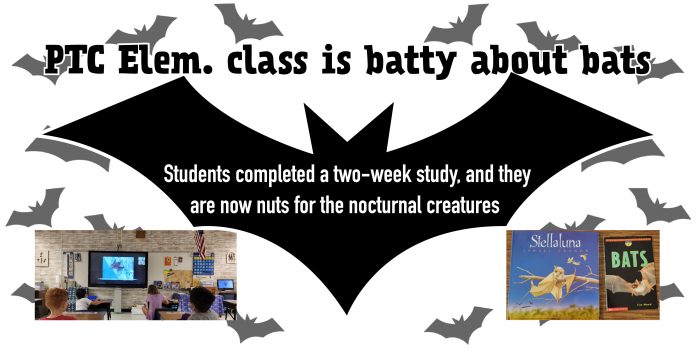 Peachtree City Elementary students are simply batty about bats. Students in Jennifer Ward's 1st grade class recently completed a two-week study of bats, and they are now nuts for the nocturnal creatures.
First, the class read a fiction story called "Stellaluna" and worked on story elements and vocabulary. Next, they paired a non-fiction story, "Bats," and studied main idea/details, vocabulary, and non-fiction text features.
To cap off the bat unit, the class zoomed with Dr. Stephen Burnett, a professor from Clayton State and expert on bats.
"He taught us ever more about bats," Ward said of Dr. Burnett, who is also the father of one of the students. "He taught us many more interesting things about bats and even used some of the vocabulary words we have been studying (grasp, scent, migrate, hibernate, colonies). It was a real treat!"