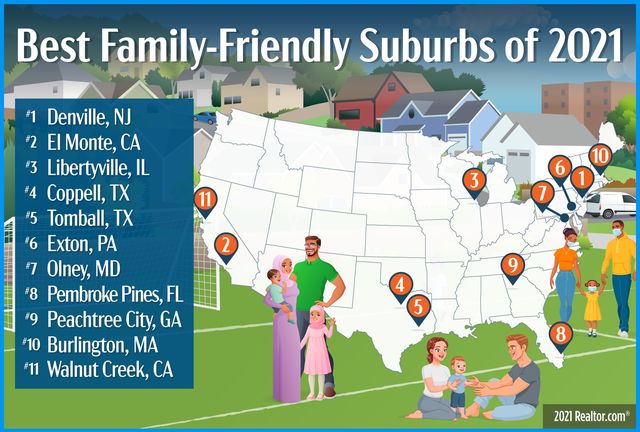 'A walkable paradise for families' —

 
Peachtree City has been named as the best family-friendly suburb in the Atlanta metro area for 2021 by Realtor.com, a national real estate site.
The site looked at the nation's 11 largest cities and then determined which suburb around each city was the best for families. For number 11 Atlanta, the best is Peachtree City, said Realtor.com.
"The data team at Realtor.com set out to find the best suburbs outside the nation's biggest cities that offer a rewarding lifestyle for parents as well as kids," according to the website.
"To come up with our list of suburbs for America's cool moms and dads, we started by looking at the nation's 11 largest cities. (How could we leave out San Francisco?) Then we looked at the surrounding suburbs in each metro area with at least 10,000 people," the website said.
"We took into account the percentage of children living in each city, school rankings, and family-friendly businesses (including day care centers). To make sure these were places parents would want to live, too, there had to be plenty of restaurants, bars, and things to do, as well as a reasonable commute (most are under 40 minutes) for when they do have to go to the office," the site said.
Here's the entry for the best in the Atlanta metro area:
9. Peachtree City, GA
Nearest city: Atlanta, GA
Median home price in July: $465,050
This master-planned community outside of Atlanta is a walkable paradise for families. One of its most distinguishing features is its 100 miles of paved paths that connect to the city's five distinct villages, each with its own shopping areas, recreational facilities, and elementary schools. Many residents here own a golf cart to get around, but the trails can also be used for biking or running.
Busy parents who need to grab takeout after a long day at work can choose from one of the city's more than 100 restaurants. Other things to do here include catching a concert at the Frederick Brown Jr. Amphitheater, better known as The Fred. For older kids and film buffs, the Southern Hollywood Film Tour highlights places in the city that were used as backdrops for popular TV shows and movies, including "The Walking Dead" and "Sweet Home Alabama."