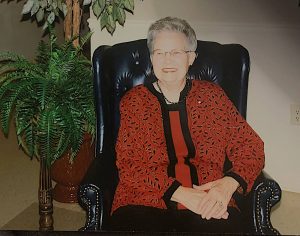 In Loving Memory of "Katie"
Kathryn Miller Woodward Akin
11.7.1926 — 7.29.2021
Katie Akin, 94, passed away on July 29, 2021 at Hospice Care Center of Chattanooga. Long-time resident of Fayetteville, GA, she moved to Valley View Assisted Living in Whitwell, TN in February 2020.
Katie was born on November 7, 1926 at Crawford Long Hospital in Atlanta to the late Robert Charlie and Tennilla Thurston Woodward. She had four brothers (Ted, Tom, David, and R.W.) and three sisters (Charlene, Mary, and Ruth), all preceding her in death.
Katie attended Russell High School in East Point, and was part of the graduating class of 1943. She and her family moved to Fayetteville in the early 1960s. Katie was always smiling and never met a stranger. She was a long-time employee at Farmers and Merchants Bank. After retirement, she enjoyed working in her yard and spending time with family. Katie was most proud of her two sons, Larry and Joe.
Katie was a faithful member of Woolsey Baptist Church. She taught Sunday School for many years at both Woolsey and Antioch Baptist Churches, as well as being a joyful member of the choir. She loved her friends in the Lamb's Sunday School class very much.
Katie is survived by two sons, eight grandchildren, eleven great-grandchildren, and many friends. Sons William Larry (Tammie) Akin of Dunlap, TN and Joseph Reeves, Jr (Sharon) Akin of Fayetteville. Grandchildren Billy (Stephanie) Akin of Dunlap, TN; Wendy (Jason) Morris of McDonough; Jo Elen (Jack) Mills of Fayetteville; Kathy (Matt) Huddleston of Senoia; Amanda Akin of Pensacola, FL; Josh (Michelle) Akin of Fayetteville; Carly Akin of Newnan; and Tyler (Samantha) Akin of Dunlap, TN. Great-grandchildren Justin Boykin, Brent Morris, Jake Akin, Brittany Akin, Jackson Mills, Connor Morris, Hunter Huddleston, Maci Mills, Hayes Huddleston, Calvin Akin, and Channing Akin.
Funeral services were held August 1, 2021 with Brother Rocky Bradford of Mount Carmel Baptist Church, Signal Mountain, TN officiating. Katie was laid to rest in Condra Cemetery, Whitwell, TN.
A memorial service scheduled for Woolsey Baptist Church on Sunday, August 29, 2021 at 2 o'clock in the afternoon has been canceled because of the Covid-19 pandemic. The family plans to reschedule the memorial service at a later date. In lieu of flowers, donations may be made to the Lamb's Sunday School Class Sunshine Fund at Woolsey Baptist Church.