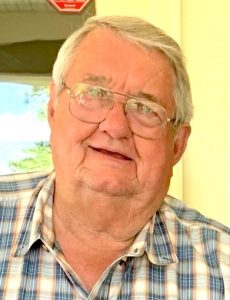 Mr. Marion Leon "Buck" Morris, age 79, of Fayetteville, passed away Saturday, July 17, 2021.
Buck Morris was born on August 8, 1941, to Bessie Lou (Morris) Turner.
He grew up in Brooks, Georgia, the backdrop for the tales of his childhood reminiscent of the adventures of Huckleberry Finn. Buck was a free-spirited boy running around getting into mischief and full of heart. This little rascal grew into a man who was larger than life in the eyes of his friends and family. A fun-loving jokester with the best stories and any tool you could ever need.
He had everything you needed for any project; he could always find the tool or the material in his shop to help you. He was diversely talented, using a common-sense approach along with his tremendous creativity. Most importantly, he made his family feel loved and was so very loved by them.
Prior to retirement, Buck worked as a shop foreman with Price Exhibits and as a building department supervisor with the Fayette County School System. Buck was born to be a supervisor; he was happiest delegating work and directing his crew as they would bring his visions to life. Buck was very influential to all who came in contact with him.
He truly enjoyed having his family around, especially when he could tell them to "pick up limbs" in the yard. A devoted family man who enjoyed life, Buck was also well known locally for his creative engineering skills in woodworking and the restoration of vintage tractors and equipment. He put his heart into his work, and you can see what a great heart he had in the details of his creations and restorations.
Best of all, Buck leaves behind a legacy of love in his children, grandchildren, great-grandchildren, and great-great-grandchild who will always remember his tall tales, silly songs, and his infectious and teasing sense of humor. We will carry him with us forever.
Those who will continue to honor his memory are his wife, Betty Jo Morris, his daughter, Faye Tye (Gary), his son, Barry Morris (Wanda), and his daughter, Julie Gibson (Richard). He is also survived by his grandchildren, Joey Tye (LeighAnna) and Jessica Norman (Greg), his great-grandchildren, Joleigh Tye and Kaleigh Tye, his great-great-granddaughter, Claira Kate Tye, and his sister, Ann Murphy (Bill). His memory will be cherished by many family members and friends.
A graveside service will be held at 2:00 PM on Thursday, July 22, 2021, at the Brooks Memorial Cemetery with Rev. Chuck Chambers officiating.
Mowell Funeral Home & Cremation Service, Fayetteville, www.mowells.com