Former student and SMHS graduate illustrates book —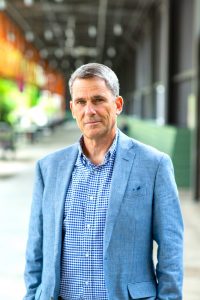 What do you have when there are two hungry cats who love "Fishy Treats" but an almost empty bag of their favorite snack? Scarcity, that's what you have.
"Earl and Starla Want ALL the Fishy Treats" is a new children's book aimed at second graders that teaches them about ways to allocate scarce resources. While they are enjoying the story about Earl and Starla — two fun loving cats — and looking at the colorfully illustrated pages, they are learning important economic concepts.
The book is now available from the Georgia Council on Economic Education, a nonprofit organization that teaches teachers how to teach economics and personal finance.
"My goal was to create a book that would show students many different strategies they can use to allocate scarce resources," says the book's author, Mike Raymer, who is also the Executive Director of the Georgia Council on Economic Education and a former economics teacher at Starr's Mill High School.
"I have not come across any children's books that address ways to allocate scarce resources effectively, so one goal of writing the book was to fill that specific space. I tried to do it in a fun way that was relatable to elementary-aged students," Raymer said.
The book was illustrated by artist Ashley Byard, a Starr's Mill graduate and a former student of Mr. Raymer's.
The book gives teachers a fun, engaging resource to use to teach students about the many different ways scarce resources can be allocated, including force, majority rule, price, contest, first come-first served, lottery, personal characteristics, authority and sharing.
"It's never too early to learn economics and if we can teach students to identify and understand economic concepts at a young age, we will be doing them a great service," Raymer says. "Students who gain an understanding of important economic concepts will be prepared to make more informed decisions as they travel through life. Economics is all around us and the more we can get students to make connections between economic concepts and their own lives, the better off they will be."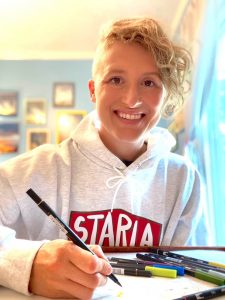 In addition to teaching about ways to allocate goods and services and scarcity, teachers can use the book to help students increase vocabulary proficiency and reading skills.
The Georgia Council will be distributing the book at no financial cost to Georgia teachers after they attend a workshop that will provide a lesson and activities that complement the book. "Earl and Starla Want ALL the Fishy Treats" is also for sale on the Georgia Council's website.
The Georgia Council on Economic Education helps teachers teach economics and personal finance in the public and independent schools of Georgia. With numerous grade-level-specific teacher workshops, classroom materials and programs like the Stock Market Game™, GCEE helps teachers prepare students for their economic roles as productive workers, informed consumers and savers, involved citizens and lifelong decision-makers in a globally interdependent world.
For more information about GCEE, visit www.gcee.org.