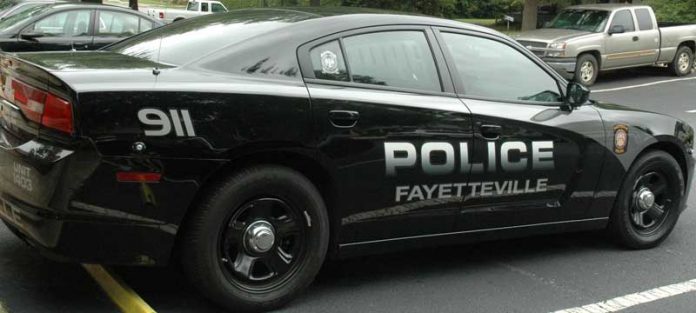 A June 18 altercation between a customer and a manager at a Fayetteville restaurant led to no charges, though the customer was taken into custody when officers determined that he had an active criminal warrant from Clayton County.
Fayetteville police at approximately 8:29 p.m. on June 18 were dispatched to the Burger King restaurant on North Glynn Street in reference to an altercation in progress, according to Fayetteville Police Department spokesperson Ann Marie Burdett.
Dispatch advised police that one of the employees pulled a gun on a male, and the male ran to his vehicle, attempting to leave the area, said Burdett.
Burdett said police arrived on the scene and observed a vehicle matching the description provided by dispatch attempting to leave the Burger King parking lot. Police stopped the vehicle and asked the driver to exit the vehicle. The driver, later identified as Raheim Lamar Bonney, was asked if he called 911. Bonney replied "no," Burdett explained.
Bonney told officers he went into the restaurant to get something to eat, but was told by the manager to leave three times. Bonney reported the manager was rude to him, and stated he told the manager if he had a problem with him, he could meet him around the back of the restaurant, said Burdett.
Bonney said he drove to the back and got out of his vehicle, and a verbal altercation between him and the manager ensued, Burdett noted.
"The manager reported to the police that they pulled out a firearm from their waistband and pointed it to the ground because they felt threatened," Burdett said.
Burdett said Bonney reported to the police that he got back into his vehicle and attempted to leave the area when he was stopped and then questioned by the police upon their arrival.
"Due to the conflicting stories and the lack of witnesses and evidence at the time of reporting the incident, no arrest was made and no charges were filed when the report was taken. Both individuals were informed on how to apply for warrants on their own," said Burdett.
Subsequently, it was later determined that 35-year-old Raheim Lamar Bonney, had an outstanding active criminal warrant for failure to appear for assault issued by the Clayton County Sheriff's Office. The Clayton County Sheriff's Office was contacted, and Bonney was transferred into their custody, Burdett noted.