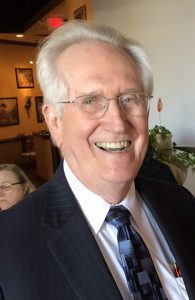 Rev. Terry Killingsworth, also known as Dad, Paw Paw, Bro. Terry, passed away Saturday, May 29, 2021.
If you knew Terry, you knew his devotion to his Lord & Savior Jesus Christ was of utmost importance in all he did. He knew how to have a good time and how to create a laugh or two, but at the heart his desire was to bring impact for the Kingdom of God into the lives of those who crossed his path.
As the leader of his home, he made sure his family knew Jesus. As a husband, he was devoted, loving, always seeking the best for Janice. As a father, he was loving, he was a man led by the Holy Spirit, teaching his boys how to have a relationship with Jesus, and being a fun father. As a friend, he loved consistently, enjoyed time together, was a friend through all seasons, and encouraged you with his words.
He easily said, "I love you" and he meant it. As a minister, he wanted to bring honor and reverence to His Lord Jesus Christ through the message brought in word and song.
Terry was born at home in Headland, Alabama, on April 21,1938, to Owen Clee & Lilly Belle Killingsworth. He was the youngest of 6 siblings, including his twin sister who he lost at 3 months old. Terry met and married his high school and forever sweetheart, Janice Carolyn Hicks in 1958.
Shortly after getting married, Terry & Janice moved to Denton, Texas, where Terry earned his Bachelor of Music degree from North Texas State University. While in Denton, Terry served his first role as music minister at two small churches: Krum First Baptist and University Baptist. It was during their time here that Terry was invited to sing with the North Texas State a-cappella choir, Good Will Ambassadors, and travelled with them to Europe as a soloist.
They spent some time in Carrollton, TX, where Terry served as minister of music at First Baptist Church Carrollton.
In 1969, Terry and Janice, and now with 3 boys in tow (Tim, Joe, Todd), moved back to the southeast where Terry served as music minister in several churches over the years: Beallwood Baptist, Columbus, GA (where he later received his ordination as a minister and served as a choral teacher), Highland Avenue Baptist in Montgomery, Alabama, Ruhama Baptist in Birmingham, Alabama, Mabel White Baptist in Macon, Georgia, First Baptist Manchester in Manchester, Georgia.
Then he finished out the last 33 years of his ministry in Fayette County, Georgia where he served: First Baptist Peachtree City, McDonough Road Baptist, Flat Creek Baptist, and after 13 years at Sandy Creek Baptist, he retired from over 60 years as a minister of music in January 2020.
So many lives have been impacted by this one man. So many have a story to tell because they knew Terry Killingsworth. A man of influence. A man of love. A man of laughs. A man who loved his Savior and his family.
He is survived by his wife of 62 years, Janice Hicks Killingsworth; Sons: Tim Killingsworth and his wife, Lynne of Kennesaw, GA; Joe Killingsworth and his wife, Heather of Milton, GA; Todd Killingsworth and his wife, Amy of Newnan, GA; Grandchildren: Joy Killingsworth Warren (Larry), Amy Claire Killingsworth, Parker Killingsworth, Ben Killingsworth, Sam Killingsworth, Jake Silvia and Shay Silvia; Great Grandchildren: Jackson Warren, Maddox Warren and Evelyn Warren.
Service details:
Visitation: June 4, 5:00 PM – 7:00 PM (EDT)
Parrott Funeral Home & Crematory
8355 Senoia Road
Fairburn, GA 30213
Funeral Service: June 5, 2:00 PM (EDT)
Sandy Creek Baptist Church
1082 Sandy Creek Road
Tyrone, GA 30290
https://www.parrottfuneralhome.com/m/obituaries/Rev-Terry-Killingsworth/Memories