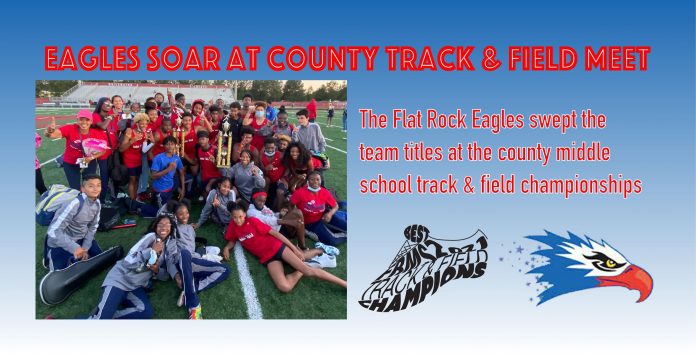 The Flat Rock Middle School Eagles soared above the competition at the county middle school track and field championships. Flat Rock swept the team championships at the meet held at Whitewater High on May 6.
Along with the boys and girls team titles, Blake Davis set a new county middle school high jump record. Dalen Penson also went on to win the boys 100 meter hurdles at the Georgia Middle School School State Track and Field Championship.
The championship Eagles are Blake Davis, Alex Hall, Ariyana Johnson, Asia Jones, Ava Stockman, Charli Hodge, Dain Dais, Dalen Penson, David Anderson, Donovan Sutton, Dylan Barbra, Emanuel Romero-Corona, Erin Smith, Ja'Tyria Kelly, Jacob Norris, Jaden Godfrey, Jaden McDaniels, Jalen Woolfolk, James Fason II, Jared White, Jaya Ferguson, Jayden VanZant, Jonathan White, Jude Adderley, Kalani Banks, Kaleb Wilson, Kelsie Henton, Mark Hill, Matthew Hill, Maximus Tucker, Morgan Muldrow, Neema Newton, Noelle Boyd, Osakilo Okeke, Randy Brown, Rejinah Hearn, Richard VanZant, Rose Clark, Samuel Brown, Soraya Walker, TaZariah McCoy, Taria McCoy, Taylor Muldrow, Te'maza Cannada, Tre Olive, Trinity Finch, Wesley Middlebrooks, Zayaan Hirani, and manager Gia McLemore.
The team is coached by Melinda White, Kentrell Burks, Tonya Ammons, Syntara Tyler, Geimere Latimer, and David White.