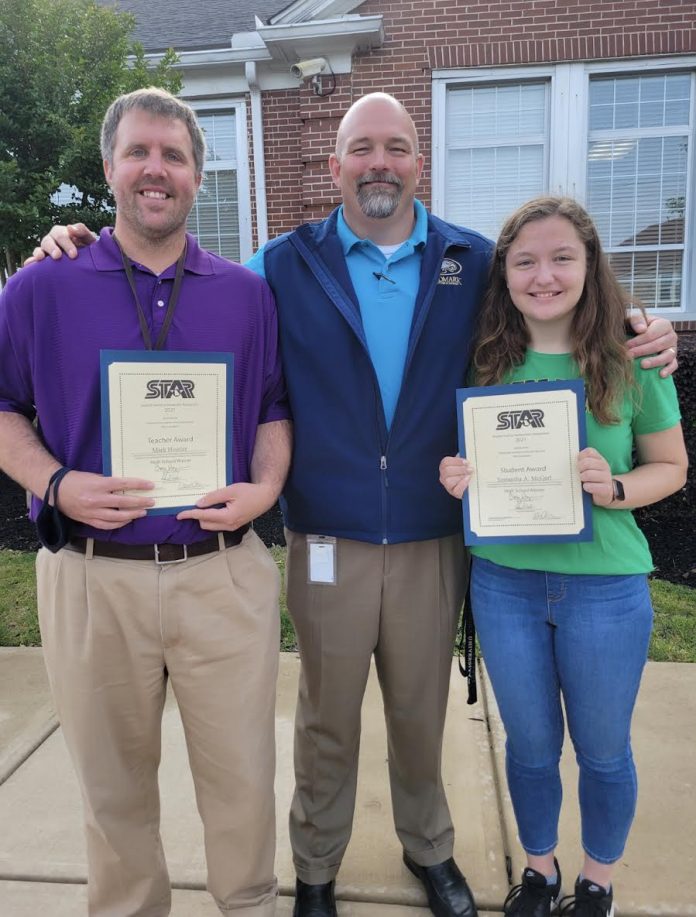 Landmark Christian School senior Sammie McGurl has been named the school's 2021 STAR Student. Peter Chatel, Principal in The Chatel Consulting Group, the local STAR program sponsor from the Midtown Atlanta Rotary Group, announced the honor Tuesday, April 27, 2021, at a virtual breakfast "banquet" held in honor of all Fulton county schools STAR award winners. McGurl selected Mark Hossler, AP Physics teacher at Landmark Christian School, as her STAR Teacher.
Sammie, the daughter of Susan and Danny (dec. 2005) McGurl of Peachtree City, earned the recognition for achieving the highest score in her class on a single test date on the SAT and in the top 10 (or 10%) students of the class based on GPA.  Sammie is excited to be following in her father's footsteps – as Danny McGurl, also received the STAR Student award at McIntosh HS in Peachtree City in 1989.  She plans to attend the University of Notre Dame in the fall to pursue Physics in Medicine and work towards a Doctorate of Physical Therapy.
"We are thrilled for Sammie and so proud of her hard work and dedication.  And we truly appreciate all the support and guidance from Mr. Hossler and the entire Landmark community," said Mrs. McGurl.
The PAGE Student Teacher Achievement Recognition (STAR) program is sponsored, administered, and promoted by the Professional Association of Georgia Educators (PAGE) and the PAGE Foundation. Since its inception in 1958 the STAR program has honored nearly 28,000 students and the teachers selected as the most influential to their academic achievement. 
STAR begins each year in participating Georgia high schools when the STAR Student is named and chooses a STAR Teacher to share in this recognition. The students and their teachers are honored by their schools and receive special recognition in their communities from one of the more than 172 statewide civic organizations and businesses that serve as local sponsors of the STAR program. Students then compete for school system recognition as the top STAR Student, and those winners compete for region honors. Region winners contend for the honor of being named State PAGE STAR Student. STAR Teachers continue on with their STAR Students at every level of the program.