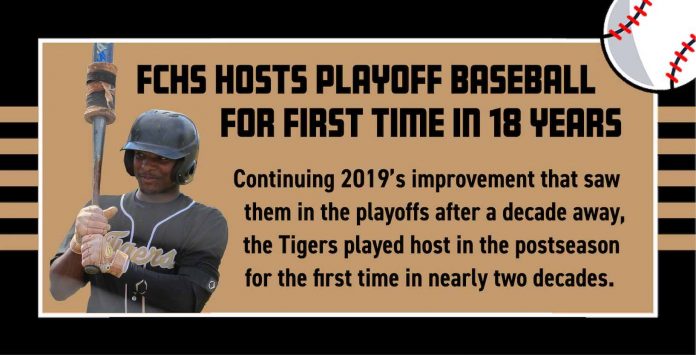 The Tigers are on the rise in 2021. Continuing a path of improvement for the program that saw the team return to the playoffs in 2019 for the first time in more than a decade, Fayette County High hosted a home playoff baseball game for the first time in 18 years.
Fayette County finished with a 20-13 record overall, along with a sparkling 15-3 region mark that earned them a number two seed for the playoffs. The Tigers were knocked out in round one by Flowery Branch, losing both ends of a doubleheader 10-0 and 10-5.
Facing elimination in game two with their backs against the wall and down to their final 3 outs, the Tigers strung together a 4-run rally. Keyed by a clutch Jevious Reynolds 2-run home run and a bunt single by Jonathan Hall-Thompson, the Tigers trimmed the gap to 10-5, but unfortunately they would get no closer.
The Tigers aren't the only baseball team making history, either. Sandy Creek went on the road and beat Oconee County in two games, 7-4 and 2-1. It marks the first time since 2006 and only the third time in school history that the Patriots have advanced to the baseball Sweet 16. They travel to play Ringgold in round two. Starr's Mill and McIntosh have also advanced to the second round in Class 5A. — BY CHRIS DUNN, Fayette County School System.