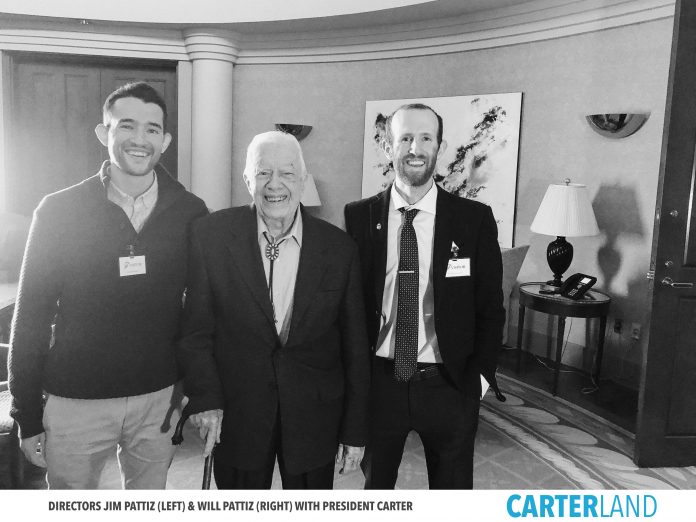 In 2019, Fayette County filmmakers Will & Jim Pattiz decided on the subject of their first feature-length film, former President Jimmy Carter. Two years later, their documentary is headlining the 45th Atlanta Film Festival. In their debut film, CARTERLAND, the Pattiz Brothers examine the tragic, yet inspiring story of America's most misunderstood president. While leading the nation through a series of unprecedented crises, Jimmy Carter also confronted climate change and championed social justice at home and abroad. The groundbreaking film draws on archival footage, experts, and insiders to reveal how Carter's selfless leadership and moral integrity ultimately cost him the presidency.
Natives of Peachtree City, Georgia, the Pattiz brothers grew up with great respect and admiration for the post-presidential legacy of Jimmy Carter. In searching for the subject for their first feature documentary, the brothers sought to understand what went wrong with Carter's presidency and why it is widely regarded as a failure. In the process, they realized that the true story of America's 39th President had yet to be told.
Jim Pattiz & Will Pattiz, collectively known as the Pattiz Brothers, are award-winning filmmakers and environmentalists whose work on America's public lands has garnered international acclaim. They gained an appreciation for film at an early age as a consequence of a remarkable teacher from neighboring Coweta County, Mr. Jeff Stuart. The Pattiz Brothers attended The Heritage School in Newnan, Georgia, where, under the expert guidance of Jeff Stuart, they were introduced to the art and world of filmmaking. It was through Mr. Stuart's film classes and the school's annual FilmFest that Will and Jim acquired their lifelong passion to become filmmakers. They coupled this passion with their love of America's public lands and began their careers making short films for the National Park Service, the U.S. Forest Service, and state tourism offices, work they still do today.
For CARTERLAND, the Pattiz Brothers traveled the country conducting more than thirty interviews over the course of two years. They recruited their parents, Jill and Tony Pattiz, both retired Fayette County educators, to research hundreds of hours worth of archival footage and more than 10,000 photographs at the Jimmy Carter Presidential Library in Atlanta.
After having seen the film prior to its release, President Carter had this to say, "Peace, human rights, equal opportunity, the environment – these issues are as important today as they were during my administration. While we made progress on all these fronts, there is much more to be done. I am proud of this fine film by the Pattiz brothers, and Rosalynn and I are delighted it will debut at the 2021 Atlanta Film Festival."
Author and award-winning journalist Jonathan Alter, who recently published a biography chronicling Carter's life, had this to say about the Pattiz Brothers film: "Carterland' is an outstanding look at the hugely underrated Carter presidency—the best, most important documentary about this much-misunderstood man. The film is especially good at explaining how Carter was the greatest environmental president in American history."
The Pattiz Brothers will join Jonathan Alter, historian Robert Strong, and Steve Hochman, Assistant to President Jimmy Carter, for an online discussion of the film and the Carter presidency. This will be open to the public and hosted by the Jimmy Carter Presidential Library & Museum on April 13th at 7:00 p.m. The Atlanta Film Festival runs April 22 – May 2nd with a combination of virtual, drive-in, and in-person screenings.