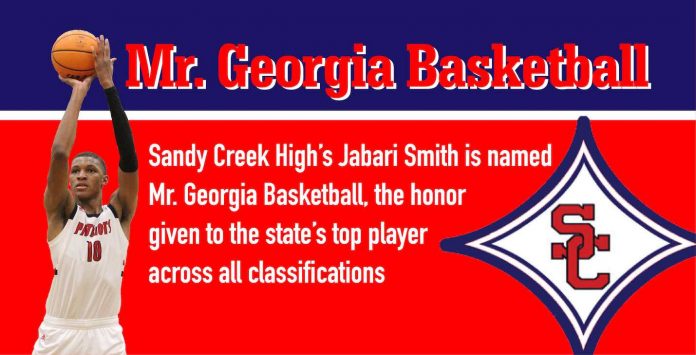 Only 2nd time in Fayette sports history; first was McIntosh's Jeff Sheppard nearly 30 years ago —

 
Though his high school basketball career is over, the honors continue to roll in for Sandy Creek High's Jabari Smith.
Smith has been named Mr. Georgia Basketball for 2021, an award bestowed by the Atlanta Tip Off Club on the best player in the state across all classifications.
Smith, who ranked as the number 5 senior in the country by ESPN and is set to play for Auburn University next season, finished the season averaging 23.4 points, 9.9 rebounds, and 2.8 blocks per game for the state runner-up Patriots.
He is just the second player in county history to earn the honor, joining McIntosh's Jeff Sheppard, who won the award in 1992 and went on to play at the University of Kentucky, winning NCAA Final Four Most Outstanding Player in 1998.
Fayette County High's Brianna Banks was Miss Georgia Basketball in 2011. Banks signed with the storied University of Connecticut program, winning two national championship there before finishing her career at Penn State.
Since the award was started in 1983, 18 players who won Mr. Georgia Basketball were later selected in the NBA Draft, with 7 drafted in the top five and 2 players picked first overall.
Among other honors like McDonald's All-American, Smith was also just named to the 2021 USA Nike Hoop Summit Team by USA Basketball. Though the game will not be played this year due to COVID-19, the Nike Hoop Summit is an annual all-star game pitting top American high school players against a select team of international players.