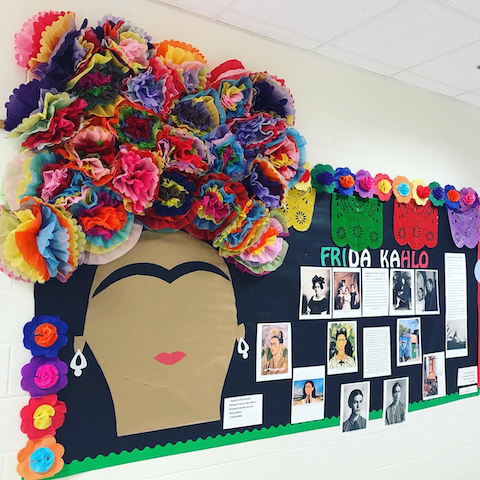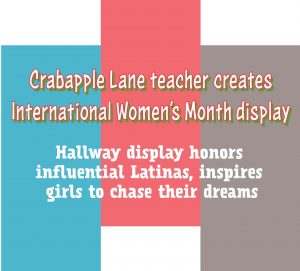 Leandra Rodriguez wants the girls of Crabapple Lane Elementary to be inspired. Beyond her regular classroom role teaching Spanish, Rodriguez relishes exposing students to the cultural aspects of the Hispanic community, and she is doing just that with an International Women's Month display lighting up the school.
The hallway is filled with inspirational stories as two bulletin boards highlight the stories of Latinas who made history as a way to motivate all girls to chase their dreams. The project is the brainchild of Rodriguez, a world language teacher. Inspired by the book "Be Bold!, Be Brave! — ¡Se Audaz, Se Valiente!" by Naibe Reynoso, she created a display as a way to honor influential women and their contributions in a wide array of fields.
"These women were pioneers and an example to follow," said Rodriguez. "I had an idea in mind and to see it finalized and how the students are responding to it is amazing."
One board features 11 icons: Award-winning actress, singer, and dancer Rita Moreno; singer Selena Quintanilla; Olympic softball gold medalist Lisa Fernandez; librarian, author, and storyteller Pura Belpre; the first female US Surgeon General Antonia Novello; the first Latina US Supreme Court Justice Sonia Sotomayor; the first Latina to be in the presidential cabinet Hilda Solis; award-winning journalist Maria Hinojosa; the first Latina astronaut Ellen Ochoa; artist, muralist, and scholar Judy Baca; and activist Dolores Huerta. There is also a board dedicated solely to artist Frida Kahlo celebrating her art, talent, struggles, and how she overcame all situations in life to become an icon.
The display encourages everyone to be their own icon with a mirror and messages that say "Your story is next! Just go to the mirror and take a look!" and "If there are things in the world you want to see different, you can change them for sure, just don't be indifferent! Be brave, be bold, and be courageous, because your destiny is also greatness! Like all these women who weren't afraid! So go out into the world and just remember to be BRAVE! SE VALIENTE!´"
"I want the students to learn from this project to see themselves capable of achieving anything in life," said Rodriguez. "I want to motivate these girls to follow and fight for their dreams because, if these women who had everything against them made it, they also can make it!"