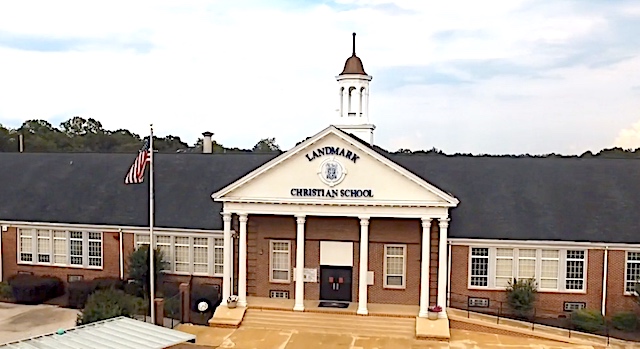 Tommy Lewis, having 21 years experience as a head football coach, and a proven winner on and off the field will lead the Landmark Christian School War Eagles football program.
"We approached this search through widespread advertising attracting more than 80 candidates," says Mollie Mayfield, Landmark Christian School CFO, COO and Interim AD. "A dedicated search committee of parents, players, faculty and administrators were unified in their recommendation of Tommy Lewis to be our next head football coach. We are excited about his arrival and look forward to where he leads our football program. We want to thank the search committee for their time invested in this important decision."
Dr. Jason McMaster, Head of School for Landmark Christian, adds, "I am thrilled that Coach Lewis and his family will join us at Landmark Christian. He is a builder of young men, of their athletic talent, and a winsome example of Jesus Christ. He built successful programs at each of his previous schools, and I'm excited to return to Landmark football."
"We are so thankful for this opportunity and thoroughly excited to become part of the Landmark Christian School and surrounding community! Loving the Lord, loving each other and hard work go a long way. We can't wait to get started! Go War Eagles!" Coach Lewis said.
Over two decades, Lewis amassed an impressive 168-81 winning record, 5 state championships, 3 runner-up titles, and reached the state semifinals 14 times.
Most recently he took a struggling program at Westminster Academy in Fort Lauderdale, FL, to two consecutive state playoff appearances and the school's first playoff win in 29 seasons.
Other successful programs under Lewis included Victory Christian (FL), Hilton Head Christian Academy (SC), and Greenbrier Christian (VA). In 2013 Lewis was named FHSAA-2A State Coach of the Year.
Lewis is known for building programs and developing young men through a philosophy of teaching life through football. His development of players, especially in the quarterback role has made an impact; 44 of his players continued at the collegiate level.
Lewis brings collegiate playing experience from and is a graduate of the College of William and Mary with a Bachelor of Arts in Business Administration – Marketing. There he received his Master of Business in Administration – Marketing.
Lewis enjoys serving the community and world through volunteerism with Habitat for Humanity, Fellowship of Christian Athletes (FCA) Camps, as an FCA Huddle Leader, and through global mission trips.
Lewis and his wife of 26 years, Meggan, have five children: Caleb (24 — LSU QB), Mary Hannah (21) Sarah Larkin (17) Micah (17), and Tobias (17).
Landmark Christian School, Fairburn and Peachtree City, Georgia, serves over 900 students in grades K4-12th from Fayette, Coweta, Douglas, and Fulton counties. The school invites prospective families to attend the March Virtual Open House to learn why Landmark is ranked as the #5 Christian school in the state. Learn about the football program, Academies, the new state-of-the-art high school and all that Landmark offers. Visit https://www.landmarkchristianschool.org/.