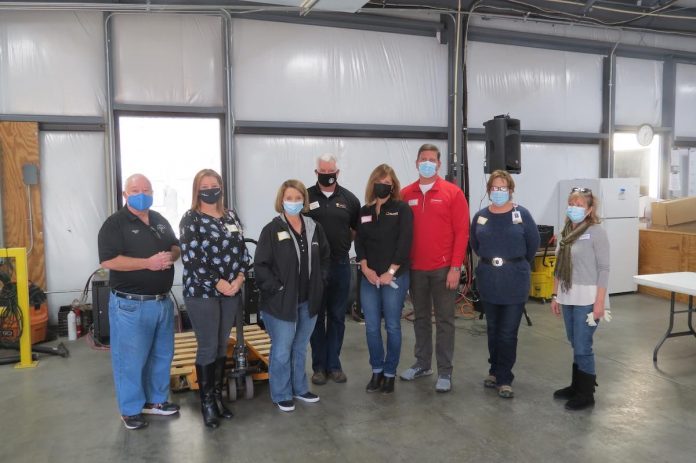 Deacon Bill Hampton of St. Matthew Catholic Church in Tyrone and St. Mary Magdalene in Newnan wanted to do something to support healthcare workers and first responders in Fayette and Coweta counties. Both Piedmont Fayette Hospital and Piedmont Newnan have received generous donations of meals and snacks throughout the Covid-19 pandemic and the treats have been a big hit with staff.
Hampton approached Will Garner, Executive Director of Midwest Food Bank in Peachtree City, with an idea to make goodie bags for every staff member at the two hospitals, as well as for all first responders in the two counties. Within three weeks, an assembly line was established on a Saturday afternoon to fill the goodie bags and get them distributed.
"We've recently seen a surge unlike anything we've seen during the pandemic thus far and our teams have responded tremendously, picking up extra shifts, taking on extra jobs and working in different roles to make sure we can care for our community," said Steve Porter, CEO of Piedmont Fayette, as he addressed the volunteers packing the goodie bags. "The community support means a lot to the staff. All of your well wishes, encouragement and prayers help keep everyone going. We can't thank you enough."
In addition to the snacks in each goodie bag, there were also cards created by students from Catholic schools in the area and Chick-fil-A gift cards donated by the company. Hampton was thrilled with the way the community responded and offered to help. The dozens of volunteers who gave up their Saturday afternoon filled approximately 5,000 bags in the span of five hours.
"The families that came out to help on Saturday were so glad to have an opportunity to give back and do something for the men and women who have been true heroes during the pandemic," said Hampton. "We're thrilled that we are able to help those who serve the community."
For more information about Piedmont Healthcare's response to COVID-19, please visit piedmont.org. Community members wishing to support the hospitals greatest needs should contact Paige Muh, Community Relations Manager at Paige.Muh@piedmont.org or call 770-719-5758 for donation guidelines and to coordinate logistics.