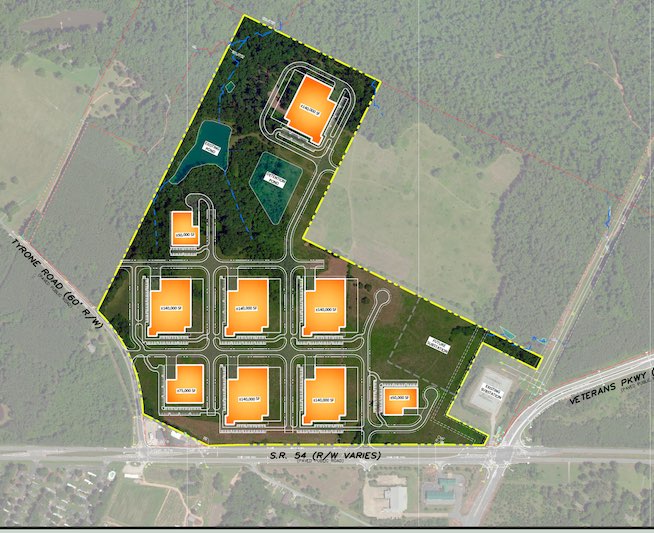 The process designed to bring the 1 million sq. ft. Southeast Data Center Campus (SEDC) project along Ga. Highway 54 West in Fayetteville moved a step closer to reality on Dec. 15 when the conceptual site plan was approved by the Fayetteville Planning and Zoning Commission.
The project was back on the agenda after receiving recent approval by the Atlanta Regional Commission and the Georgia Regional Transportation Authority (GRTA) as a Development of Regional Impact (DRI).
The vote by the commission to approve the conceptual site plan was unanimous.
SEDC is a project of Oceanic Data Centers (ODC) and is situated on 122.5 acres along Ga. Highway 54 and a portion of Veterans Parkway to the east and Tyrone Road to the west.
The property already carries a Business Park zoning designation for the currently undeveloped Lester property.
Commissioners previously heard from ODC owner Joel Embry, who said ODC is currently marketing the project, adding that the data center market in Atlanta is good, with the pandemic having increased the need for data space.
Embry said he expected the first data center building to begin construction in the third or fourth quarter of 2021.
Director of Community and Economic Development David Rast previously said ODC is proposing a multi-building data center and technology business park to be developed in phases, and encompass more than 1 million sq. ft. of technology-related space designed to accommodate single or multiple users.
The project will include access to Hwy. 54 and Tyrone Road, with privately-owned internal roadways designed to eventually provide access to undeveloped properties to the north and east.
The overarching master plan focuses on creating an environment that combines hyperscale, corporate and industrial campus attributes, while blending in with the surrounding developments, according to Oceanic.
"The current master plan is based on the flexible, phased delivery of approximately 50,000 to 140,000 square foot data center modules designed to address demand from single or multi-tenant enterprise, colocation and hyperscale data center customers. ODC's vision for the site, commonly known as the Southeast Data Center project (SEDC), plans for the development of the complex over a 10-year period beginning in late 2021 with 50 percent build-out achieved by the end of year six. At full build out, the site has been master-planned for upwards of eight buildings," Oceanic said.
Oceanic maintained that the project is conceived to meet the active and increasing demand for data center capacity in the Atlanta region. The buildings comprising the master plan would be designed to utilize conventional, economical construction techniques and building systems while addressing the tailored needs of data center users.