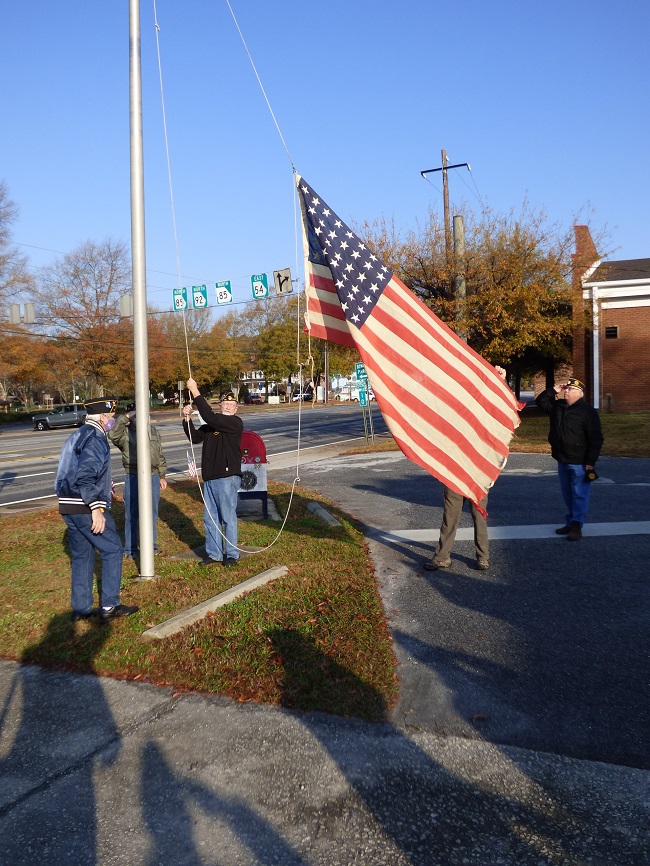 The attack at Pearl Harbor, Hawaii, on Dec. 7, 1941 was remembered in Fayetteville on Monday, with vets and their families watching as a flag flown over a military base in Malaysia during World War II was raised and lowered to half-staff.
The Pearl Harbor Remembrance Day ceremony was held at the Fayette County Post 105 of the American Legion log cabin in downtown Fayetteville.
Raised and then lowered to half-staff in front of the log cabin, the 48-star flag flew over the U.S. military base on Baik Island, Malaysia, during World War II.
It was just before 8 a.m. on Sunday, Dec. 7, 1941, that hundreds of Japanese fighter planes descended on the base, where they destroyed or damaged nearly 20 American naval vessels, including eight battleships and over 300 airplanes.
More than 2,400 Americans died in the attack, including civilians, and another 1,000 people were wounded.
The day after the assault, President Franklin D. Roosevelt asked Congress to declare war on Japan, according to history.com.