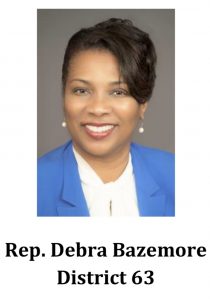 The House Democratic Caucus on Nov. 10 elected District 63 State Rep. Debra Bazemore to serve as the House Minority Chief Deputy Whip. Bazemore serves portions of north Fayette County.
"I thank my colleagues for trusting me to carry out the duties of chief deputy whip," said Minority Chief Deputy Whip Bazemore. "My goal is to assist in strengthening the purpose of our caucus in order to move toward becoming the majority party, as well as enable us to represent all of our citizens in a fair and unifying manner when introducing legislation that will change the trajectory of the state."
Bazemore is responsible for monitoring legislation as it moves through both chambers of the General Assembly and helping the members of the Minority Caucus to better understand the details of bills and resolutions.
This will be Bazemore's third term in the Georgia House of Representatives and her first term as Minority Chief Deputy Whip.
Bazemore serves on the Human Relations and Aging, Intragovernmental Coordination, Natural Resources and Environment and State Planning and Community Affairs committees.
First elected in 2016, Bazemore's district serves portions of Fayette, Clayton and south Fulton counties.