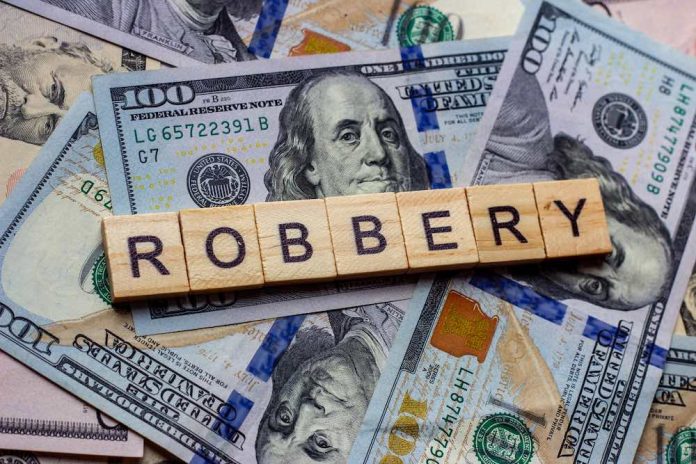 The Dollar Tree store on Ga. Highway 85 South in Fayetteville was the scene of a Nov. 7 armed robbery in which two employees were held at gunpoint and threatened. The employees suffered no physical injuries during the robbery.
Fayetteville Police Department spokesperson Ann Marie Burdett said officers on Nov. 7 at approximately 8 p.m. were dispatched to the Dollar Tree on Hwy. 85 South in reference to a robbery.
Officers secured the scene, then met with the complainants/employees of Dollar Tree, who reported that a black male entered the store and went to the back of the store and appeared to be shopping, said Burdett.
"The subject walked from the store's rear with items in his hand to one of the cash registers to purchase the items," said Burdett. "The complainant reported the subject leaned over the counter toward the employee and, in a demanding tone, stated, 'Give me the stuff.' The employee responded to the subject that they couldn't do that without him paying for the items. The subject then stated to the employee, "'You think I'm playing?'"
Burdett said the subject pulled a pistol with a silver chamber from his pocket and held it at his waist level while pointing it at the employee, demanding the employee open the cash register drawer. The employee raised their hands without opening the cash register drawer.
"The subject walked over to another cash register and demanded the employee 'Hand it over,' referring to the money. The second employee reported the subject became frustrated with them because they were not moving fast enough, and the subject stated to the second employee, 'I will shoot you, too.'" said Burdett. "The subject then instructed both employees to walk toward the door where the safe is located. One of the employees was forced by the subject to open the safe and give him all of the money, while the other was instructed to sit down."
Employees said the man placed the money in a basket and covered it with a sweater, said Burdett, adding that the subject advised the employees not to follow him, or he would shoot them. Once the subject left the area, one of the employees called 911.
Witnesses in the area reported that the subject was a black male, approximately 5'6″ to 5' 7″ ft. in height, weighing approximately 130-140lbs.
The subject was seen wearing a white hoodie, gray baggy pants, white Nike tennis shoes with gray tops and a black mask with facial hair visible under the mask.
Burdett said the subject was seen walking from the scene in an unknown direction, and he was not observed getting into a vehicle.
Burdett said the employees were not injured during the robbery.
Witness statements were obtained and video evidence will be forthcoming. The scene was turned over to the Criminal Investigations Division and the Crime Scene Unit for further investigation, said Burdett.