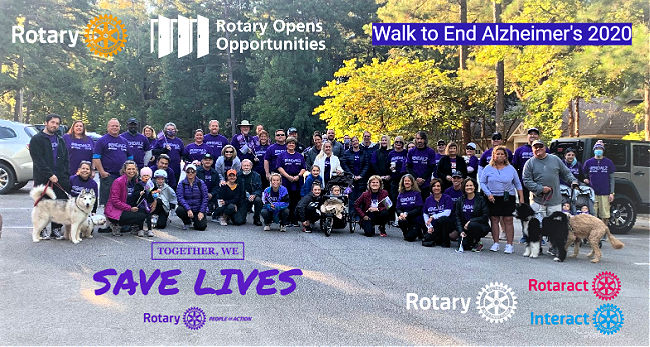 Two Great Organizations – One Worthy Cause!
"Different Walk, Same Reasons" was the slogan for this year's Walk to End Alzheimer's. Due to safety concerns, the Southern Crescent Walk to End Alzheimer's was not the same huge event with 1000s of walkers meeting together to hear from survivors, caregivers, and medical personnel. What this year's event did have, though, was the same commitment from its supporters to raise awareness, raise funding, and to have fun!
Two great organizations in Peachtree City decided to combine their fundraising efforts and to grow their teams' presence this year.
More than 50 Rotarians, Rotaractors, Interactors, and Cooper Lighting Solutions employees, extended family, and friends come together to walk around beautiful Lake Peachtree on the day of the event. Walkers ranged in age from nine months to 90 year. With sponsorships from both Cooper Lighting and the Peachtree Rotary Club, plus  donations for the teams, the two groups were able to raise more than $7500 for the cause. The teams and supporters are already looking forward to next year's event and hopefully having the ability to be back in person with the other supporters in our local community.
Mandy Timmons, Director of Customer Experience at Cooper Lighting and Peachtree City Rotary Club's Club Admin Director, was the team captain for both organizations.
"As a new Rotarian in 2018, I was asked by Past President, Mary Chapman, to take on the lead of the ALZ Walk captain for the club," Mandy said. "I had previously never participated in the event or even heard much about Alzheimer's. After learning some of the facts about the disease and understanding our club's support every year since the race started in Peachtree City, it became apparent that this was a cause I wanted to support, raise awareness for and help 'Lead the Way to the first Survivor'!"
"As an employee of Cooper Lighting Solutions, I felt that this was definitely a cause that our company and employees would also support, so I took on the role of captain for this team as well this year and started rallying the troops for both teams to join together and to do so in person, while still social distancing."
The death rate from Alzheimer's has increased by 146% since 2018 and has now become the 6th leading cause of death in the United States. It is also projected that this disease will cost the US more than $1.1 trillion by 2050. There are more than 16 million caregivers and one in three seniors dies with Alzheimer's or another dementia. With our aging population here in the local community, this hit home with many of the walkers that this disease would continue to be a challenge until a cure is found!
About Rotary
Rotary International was founded in Chicago, Illinois, on February 23, 1905. Rotary is a global network of 1.2 million members across 35,000 clubs. We believe that we have a shared responsibility to unite and take action to create lasting change – across the globe, in our communities, and in ourselves.
The Rotary Club of Peachtree City was established in 1967 and is the oldest service club in Fayette County. We have approximately 120 members and we meet each Thursday at noon at the Peachtree City Conference Center.
Rotary focuses on promoting peace, fighting disease, providing clean water, sanitation and hygiene, saving mothers and children, supporting education, and growing local economies. We do this by providing service to others, promoting integrity, and advancing world understanding, goodwill, and peace through our fellowship of business, professional, and community leaders.
About Cooper Lighting Solutions
"We question, we seek and we solve. Because building a better world means asking tough questions and pushing harder for answers. Together with our customers, we create solutions that build a better world. At Cooper Lighting Solutions, we push past the ordinary to build brighter."
Cooper Lighting Solutions is a business unit of Signify, the world leader in lighting. Together, they have a shared purpose to unlock the extraordinary potential of light for brighter lives and a better world. They build forward-thinking lighting solutions that make people's lives safer, while making buildings, homes and cities smarter and more sustainable by delivering an industry-leading portfolio of indoor and outdoor lighting, lighting controls and smart lighting systems.