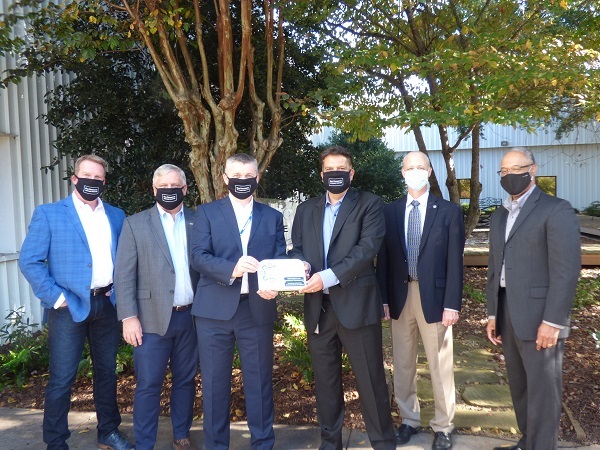 Representatives from the Ga. Department of Economic Development (GDEcD) arrived at the offices of Panasonic Automotive Systems in Peachtree City on Oct. 13 to present company officials with the 2020 Georgia Emerging Automotive Recognition (GEAR) Award for Automotive Innovation.
The award is conferred to a company demonstrating innovation in a variety of ways including: emerging technologies for the automotive industry, a new product design or a new/updated manufacturing process.
Commenting on the award, Panasonic Automotive President Scott Kirchner said, "At Panasonic Automotive, it is our core mission to develop innovative products that pave the way to safer roadways and a transformed mobility experience. We do this through remarkable talent and culture, as our people are our most sustainable competitive advantage. We could not be more honored to receive this award recognizing the innovation and dedication of the Panasonic Automotive Employees and look forward to continuing to be a part of Georgia's emerging automotive footprint."
"From ride-sharing apps to more and more car owners purchasing electric vehicles, the automotive industry is rapidly evolving, and Panasonic continues to innovate to meet the ever-changing needs of its customers," GDEcD said. " As an integrated solutions leader in infotainment, connected mobility and electrification, Panasonic Automotive has remained right at the intersection of today's changes."
The award also noted that from battery advancements and new display technologies, to 5G communication performance validated across the entire vehicle, Panasonic's innovation has helped numerous Original Equipment Manufacturers adapt to the modern consumer. Panasonic's Georgia facility is located in Peachtree City and employs roughly 1,500 people, GDEcD said.
Award criteria require that the innovation must have been made at the organization's Georgia location.
Georgia is home to more than 200 automotive-related facilities, and in the last five years, Georgia located 102 automotive companies, creating 8,103 jobs.
Panasonic Automotive Systems Company of America (PASA) is an industry leading global supplier to Automotive Original Equipment Manufacturers (OEM's) for infotainment systems and advanced connected car solutions. Their clients include Ford, GM, Chrysler, Daimler, Fiat, Tesla, Honda, Toyota, Nissan and many others, according to Panasonic.