If having some help with the never-ending chore of house cleaning would make your life easier, the enthusiastic staff at Two Maids & A Mop in Peachtree City is ready to lend a hand. 
Under new ownership and management since the October of 2019, Two Maids provides residential and small business cleaning services in the Peachtree City area. Whether you need one-time or recurring services, Two Maids can help you with routine cleaning, deep cleaning, and move-ins or move-outs. In addition, a special "Design With Time" option offers time-based services in which the company works on your prioritized task list.
Your health and peace of mind is a top priority of the team at Two Maids. Employees temperatures are checked each morning and they wear masks and gloves in customers' homes. Fresh supplies are used at each location as well as hospital grade cleaners and a CDC approved disinfectant for COVID-19.
Being a positive and reputable part of the community is a priority as well. Accordingly, all employees undergo a background check and the company is bonded and insured. "Pay for Performance" is something else that sets this company apart from others.  Employee compensation is determined by client ratings, helping to maintain quality and consistency clean after clean.
"We love making people's lives a bit better and offering reassurance during this time," Nicole Akers, owner, says. "We look at our services as a way of giving our customers back time and reducing stress. That is time they can spend doing something they love."
Two Maids is a proud partner of Cleaning for a Reason, providing free house cleaning for individuals undergoing cancer treatments.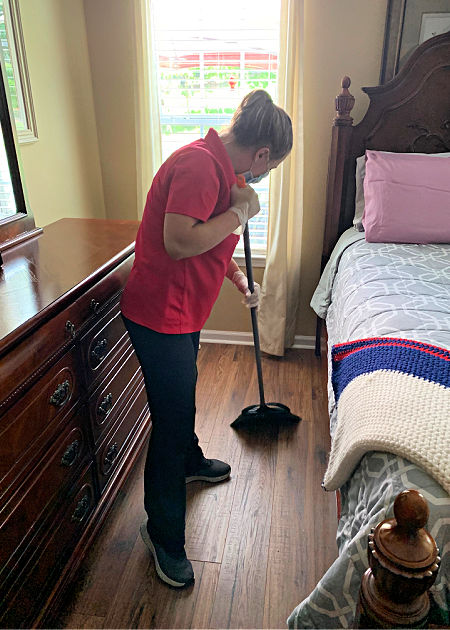 Two Maids maintains an office at 277 Highway 74, Suite 103, in Peachtree City. Hours of operation are Monday through Friday from 8 am to 5 pm. For more information, call 770-284-3094, or visit twomaidspeachtreecity.com.
"We love making people's lives a bit better and offering reassurance during this time," Nicole Akers, owner, says. "We look at our services as a way of giving our customers back time and reducing stress. That is time they can spend doing something they love."