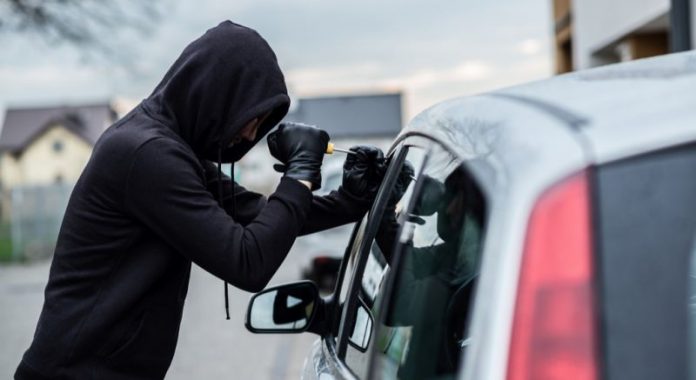 Two nearby subdivisions off Redwine Road experienced a rash of entering auto incidents on June 21, where seven vehicles were entered at seven residences and one vehicle was stolen. Investigators got a bit of help with two of the incidents after home video showed a suspect at the scene.
All the entering auto incidents and the vehicle theft occurred at the Haddonstone and Rolling Meadows subdivisions along Redwine Road.
Vehicles at four homes in the Haddonstone subdivision were the targets of thieves on June 21. Video at two of the residences captured the suspect's images.
The incidents occurred at three homes on Bergen Drive and one home on Leeds Drive. In each of the incidents, the vehicles were presumed to have been unlocked. Each of the vehicles was rummaged with nothing stolen, said Sheriff Barry Babb.
Home video at two of the Bergen Drive residences showed a slender black male in the driveway wearing a red baseball jersey with the number "19" on it, Babb said, adding that one of the videos showed the man entering a dark 4-door sedan that had been parked in front of the driveway.
One of the entering autos reported in the Rolling Meadows subdivision on June 21 occurred at a Rolling Brook Trail residence where two handguns were stolen from a presumably unlocked vehicle. Another vehicle, a 2014 Dodge 2500 truck was stolen from the residence, said Babb.
Babb said two other residences, on Rolling Brook Trail and on Rolling Meadows Trail, had a vehicle thought to be unlocked, entered and rummaged but with nothing stolen.
On June 19, there were two other entering auto incidents. One of those was at a residence on Olde Oak Drive off Corinth Road where two unlocked vehicles were rummaged with nothing stolen, Babb said.
The other was a residence of Kenwood Road where a passenger window was busted but nothing was stolen.
Babb cautioned that if discovering someone in the process of entering or attempting to steal a vehicle, residents should consider calling 911, given that some thieves may be armed.
In another incident in unincorporated Fayette, a 25-year-old Bishop man was arrested June 20 on charges of statutory rape and enticing a child for indecent purposes.
James Splichal was arrested after deputies were dispatched to a south Fayette residence on a domestic call at 1:56 a.m. on June 20. The initial report noted that the complainant caught Bishop bringing an underage relative home. The charges resulted from an investigation at the scene, said Babb.
Brooks was arrested at 2:15 a.m. at a location on the Ga. Highway 85 Connector, according to Fayette County Jail records.
Also in unincorporated Fayette County, a burglary at a business on Ethan Drive in the Kenwood Business Park was reported on June 20.
Babb said the owner explained that the burglary had occurred during the past week, with the locks cut on 13 containers in which special effects props were stored. Nothing was reported stolen.