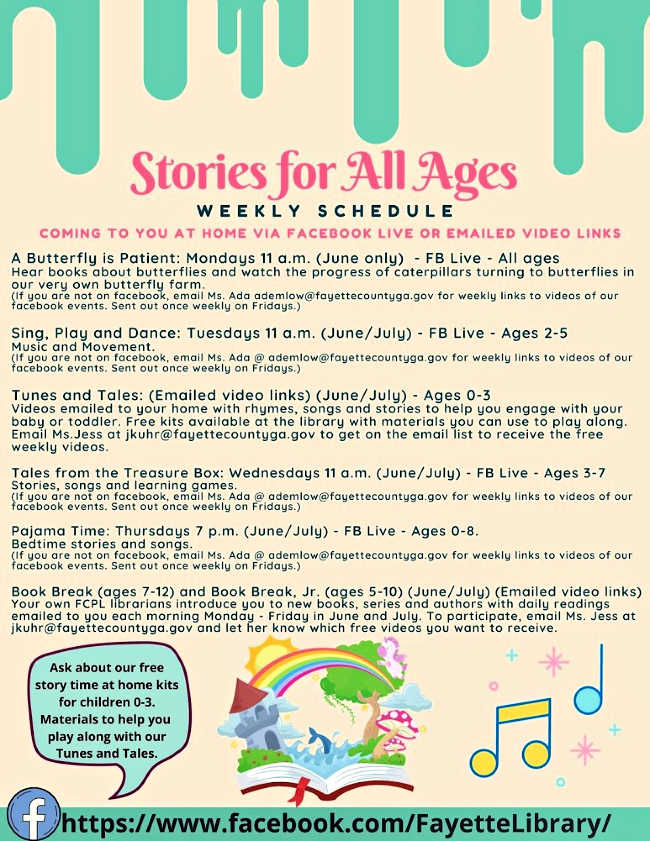 The Fayette County Public Library is launching its 2020 Summer Quest with Reading Challenges, a picture book trail, Imagine Your Story Art Bags, and a full slate of virtual storytimes and other digital fun. There will be something for everyone ages 0-13 and some extras for the grownups as well.
Our Summer Quest reading challenge for ages 3-13 runs from June 1 – July 31. Families can sign-up on Beanstack at https://fayettelibrary.beanstack.org or download the free Beanstack app on iTunes or Google Play. Our challenge this summer is to read at least 36 days during June and July and complete some fun activities that get you out of the house and moving or in the house creating. While you are on Beanstack be sure to take a look at some of our other challenges includes ones for adults, parents, and ongoing challenges for children that they can work on year-round. Part of these challenges includes completing fun learning activities that we will have available at the library.
Every Monday in June we will be setting up a picture book trail on the library lawn. Families can read the book A Butterfly is Patient while they walk the trail and then pick up a take-home kit full of STEAM activities all about butterflies.
"Imagine Your Story" art bags will be available all summer long. In these bags, there will be Artist Trading Cards, which are sets of blank cards to be decorated, and then treasured or traded with friends and family. Another creative option will be blank books that can be filled with art, journaling, or writing your own stories. If you like comics, the bags will also have some blank comic paper for children to create their own graphic stories.
In addition to these activities, the library will have a full slate of storytimes coming to you either through Facebook live or through e-mailed links to videos. For our youngest patrons ages 0-3 we have created early literacy kits that you can pick up for free in the children's department. These contain props you can use while watching library staff lead an interactive weekly toddler storytime sent to you by e-mailed video link. We also have virtual storytimes for preschoolers and families. Children 5 and older will want to check out our Book Break program featuring readings of children's novels by library staff. You get new installments e-mailed daily. As extra bonus fun for the older children, we will be creating fun literature-based digital breakout games which will keep them busy solving puzzles to unlock solutions to challenging puzzles.
For more information on any of these programs, including information on signing up for e-mailed videos, visit the children's page of our website which has digital flyers packed with all the information you need to know. Also watch our social media for updates and videos featuring our librarians and local guests for artistic, crafty, and fun demonstrations to help inspire your creativity! The Fayette County Public Library is located behind the Fayette County administrative complex in downtown Fayetteville, at the southwest corner of Highways 85 and 54. For additional information, please contact the library at 770-461-8841, or visit the library website at www.fayettecountyga.gov/public_library.
Fayette County offices have reopened to the general public but in an abundance of caution concerning Coronavirus (COVID-19), we request our residents continue to contact us via phone, email, or our website to keep any exposure to a minimum.