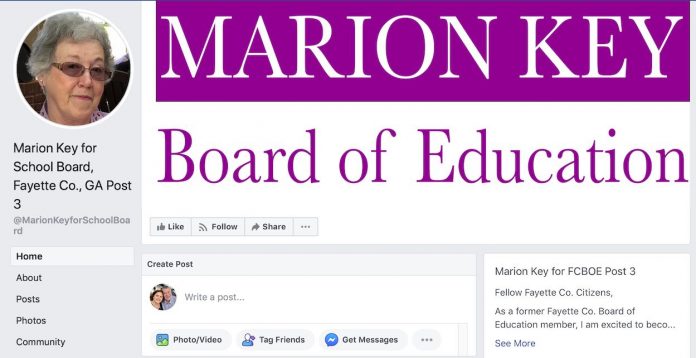 MARION KEY
QUESTION: You are asking to be hired (or re-hired) by the voters of this county. Give five reasons why they should vote for you and not your opponent.
Board of Education service requires a myriad of talents and experiences. My experiences as an educator, board member, long-time resident of Fayette County, and a conservative provide me the foundation to be a reliable and respectable decision-maker. I understand the needs of students, teachers, and taxpayers.
1. Education Background: I hold a Bachelor of Science in Education degree and a Masters in Education degree from Georgia College and an Education Specialist degree (EdS) from Georgia State University. My 9-year tenure as an elementary teacher gives me an appreciation of the work that teachers do in the classroom and in the lives of students.
Teaching extends beyond the confines of classroom walls; it is not an 8:00 to 5:00 job. Working initially as a tutor/parapro in the math learning lab at Clayton State, I extended my teaching career to include a 20+-year role as an instructor/assistant professor of developmental studies mathematics. I have first-hand knowledge of the importance of adequate elementary and secondary education as preparation for college.
During my tenure at Clayton State I was appointed to a committee whose directive was to create the framework for a middle school teacher education degree at CSU. Additionally, I served on the committee to develop the math curriculum for students majoring in math education.
Upon my retirement from Clayton State, I worked with babies and toddlers in the Children's Morning Out program at Peachtree City United Methodist Church for several years. Unlike the other candidates, my involvement in the education field spans a wide range of ages and environments.
Board of Education service requires knowledge beyond the financial aspects of maintaining a school system or a corporate balance sheet.
2. Board Experience: I have proudly represented the county for twenty years as a member of the Fayette County School Board and possess institutional knowledge surpassed by no other candidate. A combination of my experiences and education has helped guide me to make the necessary decisions that put students' and teachers' needs first.
The business of education requires a working knowledge and understanding of the education process. My background gives me the ability to know what questions to ask, to read between the lines when working with various constituents, and to identify the real needs within our system. I have served our taxpayers during good economic times and bad. I have asked tough questions and made tough decisions when needed. I take a pragmatic view of planning and on the reliance and interpretation of data. Accountable to those I serve, willing to listen to those I serve, and accessible to those I serve, I have demonstrated my commitment to the people of the Fayette County.
3. Education Budget Experience: During my tenure as a board member, I was instrumental in balancing the budget during the 2008 economic downturn and addressing the financial needs of the school system.
I collaborated with my team members to hire a new superintendent, restore furlough days to teachers by reinstating the 180-day school calendar, award employees with long overdue pay raises, and reestablish a reserve fund that had previously been drained. Hopefully this reserve fund will continue to serve our district's future financial needs as we are challenged with funding cuts resulting from Covid-19.
An understanding of the various funding accounts, i.e., maintenance & operations and SPLOST, is integral to spending and decision-making. I will always prioritize our system's needs based on the problem we are proactively trying to solve instead of working retroactively to justify a list of wants.
Constructing new buildings that aren't necessary and failure to enhance the education students receive is a poor use of taxpayer money. Fiscal responsibility is paramount to a school system's success. My experience in working with school budgets during prosperous and challenging economic times yields a perspective and prudence that can only enhance my candidacy for the school board.
4. Conservative Values that focus on Excellence for Students: "Excellence is never an accident. It is always the result of high intention, sincere effort, and intelligent execution; it represents the wise choice of many alternatives — choice, not chance, determines your destiny." Aristotle's words reflect the expectations of Fayette County residents and the philosophy I embraced in my role as a Fayette County School Board member. Students first!
My actions exemplify a cautious approach to change that embraces excellence in the classroom. Always advocating for progress, I have been a proponent of change that would enhance the opportunities we provide our Fayette County students. Expanding the Advanced Placement (AP) program at high schools, upgrading science labs at the middle and high schools, and implementing a 21st century technology roll-out in classrooms.
The records of my past service will reflect that I oppose wasteful spending, as is evident in my vote against the construction of Rivers Elementary School and the purchase of 125 acres of land on Inman Road. I am consistent in my practice to represent taxpayers with a methodical and conservative approach to change.
Excessive spending on non-student related expenses in the past three years; i.e. $375,000 superintendent's salary, a $10,000,000 LaFayette Education Center upgrade, the construction of a replacement Booth Middle School building in lieu of a renovation, and increased personnel expenses for non-teaching positions at the district office are practices of the current board. Our focus must return to continuous improvement for our Fayette County students.
5. Vested in the Fayette County School System: My commitment to the Fayette County School System is evident in the 40-year residency I've established in the county. Furthermore, I entrusted this school district with the education of both of our children, and the cycle continues as two of our grandchildren are currently attending Fayette County schools.
Teaching is in our family. My husband's 20-year service as a teacher and coach has garnered the respect of students, teachers, and parents. He has worked with the Boy Scouts of America, served as an academic coach of Science Olympiad and Academic Bowl teams, coached three athletic sports: football, basketball, and track.
Following in our educational career footsteps, our daughter currently teaches social studies in the county.
Our philanthropic efforts include district needs. As a family we invested our time in helping teachers, cleaning, and preparing for the opening of Kedron Elementary School. We have donated funds to the McIntosh High School and Booth Middle School fine arts programs and Science Olympiad teams as well as to projects at other schools in the county.
I support school functions, i.e., Hall of Fame banquets, Governor's Honors Program (GHP) ceremonies, concerts, graduations, etc. It takes a village to educate a child, and our family embodies a long-standing dedication to the institution of education.
Serving on the Board of Education is a small repayment for the educational opportunities my children received and my grandchildren are currently enjoying. I care for children, our community, and the future of education. There is no other candidate who has demonstrated this commitment to our school system.
QUESTION: How are you different from your opponent(s) in your philosophy and your approach to this elected office?
I believe in the Fayette County School System. My priorities as a board member will remain consistent — to support students and teachers, to maintain school system excellence, and to serve as a good steward of taxpayers money. The purpose of a K-12 education is to prepare students to become contributing members of society.
The pursuit of a college or technical school education, service in the military, or gainful employment are options that should be available to every Fayette County graduate.
The role of the Board of Education is to serve as a liaison between the general public and the school system, provide students with optimal education services, support teachers in an ever-changing educational climate, manage money wisely, adopt system policies, and hire a superintendent who will manage the daily activities of the system with accountability for the education and welfare of our 21st century students.
First and foremost, we must evaluate our current system of practices. Consequently, I believe we should conduct evaluations of our current programs, personnel, financial structures, alumni success, and online learning, as outlined below:
A. Program audit — to evaluate the programs the system offers to ddetermineif they are meeting the needs of students.
B. Personnel audit — to determine if non-teaching positions are essential and provide support for teachers.
C. Financial audit — to determine if monies are being spent on the system's priorities.
D. Alumni survey — to study graduates' perceptions regarding the education they received and their recommendations for improvement.
E. Online learning analysis — to assess and implement effective teaching and learning strategies to address the needs of teachers and students.
How can we better incorporate 21st century teaching and learning strategies into our system? Covid-19 plunged the system into distance learning and teaching without fundamental knowledge and training to prepare students and teachers.
The changing face of education compels us to consider teaching and learning alternatives in the classroom and in the digital horizon.
There are many concerns and questions to be addressed. How can content mastery be effective and enhanced? Are students mastering material presented through classroom and digital instruction? What support measures would be beneficial for students struggling with learning? How can we better equip teachers to address the needs of students while maintaining the integrity of the education process? Teachers and students should be driving the decisions that impact teaching and learning.
Our current education system requires a candidate with an education background to lead the reform to be effective in our 21st century world. Assessing our current practices to implement improved strategies is paramount in maintaining our system's reputation for educational excellence and continuous improvement.
The three major area for our attention are teaching and learning, financial efficacy, and system leadership. This is an education system and needs someone who understands the education process.
Because of my varied experiences in education, prior board service, and work with budgeting, I understand the needs of students, teachers and taxpayers. I am the best candidate to represent and serve the students, parents and teachers of Fayette County.
Please see my Facebook page "Marion Key for Board of Education" for more discussion of these and other issues. Your questions and input are welcome.