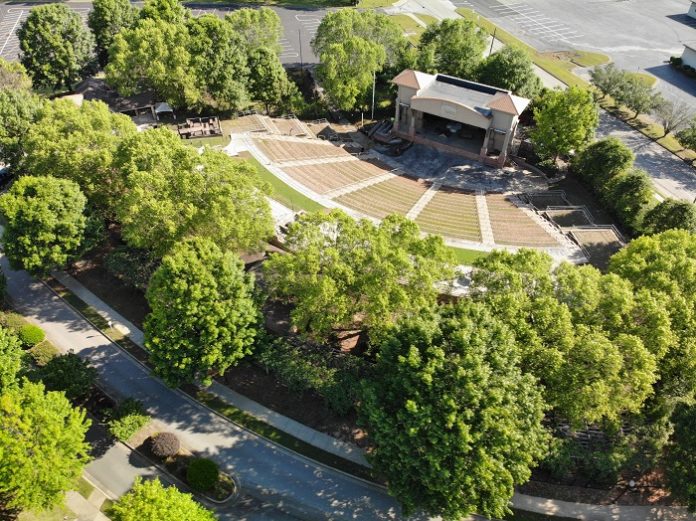 Fayetteville, the Downtown Development Authority and Fayetteville Mainstreet groups are currently working on a two-phase update project at the city's Brightmoor-Southern Ground Amphitheater. The first phase is underway, with the second phase to take place after the 2020 concert series, with the projected completion in late winter.
With nearly two decades in use, the first phase cost totals $257,000 and includes items such as structural repair for settling at the concessions building, masonry repair in restrooms and concessions buildings, repairs to loose rails and those with structural damage, stabilizing restroom and concession building slabs and repainting the amphitheater exterior, interior walls and railings.
City Manager Ray Gibson said first phase expenses will be funded through reserve funds which will be reimbursed through a bond issued by DDA or the Fayetteville Facilities Authority for up to $2 million. The bond will cover the expenses of the second phase.
Not included in the Phase 1 costs are the architectural design services for Phase 2 or the cost of three large, all-weather TVs that will be used for advertising and other purposes.
Phase 2 will bring more extensive work. Though still in the planning stages, Downtown Development Director Brian Wismer said the project is expected to include upgrades such as removing paver steps and replacing them with a concrete step and handrail system, and opening up sight lines around the perimeter seating area. Currently under consideration is the idea of installing permanent seating in the amphitheater rather than the grass seating now in use.
Wismer said final plans and bid estimates will be worked on during the summer, with Phase 2 work expected to begin in November and conclude in late winter.