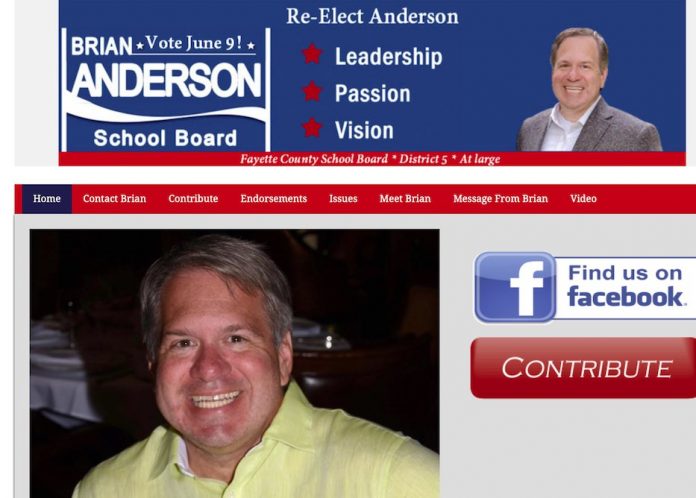 BRIAN ANDERSON
QUESTION: You are asking to be hired (or re-hired) by the voters of this county. Give five reasons why they should vote for you and not your opponent.
Here are five reasons why voters should support me. (As I understand, both of my opponents have withdrawn from consideration.)
1. I serve the entire county, with no ties to any special interest group or single issue.
2. I am both a parent and small business owner in Fayette County. I have 3 current students in Fayette County schools, and a daughter who graduated from our system last year. I have a vested interest in the continued success of our system.
3. We are going through unprecedented times. I am fortunate to have spent the last 3 1/2 years serving my first term on the Fayette Board of Education. Our system needs an experienced conservative leader to help navigate the fiscal and operational uncertainty. I am that experienced leader. I will be effective on day 1 if re-elected.
4. I have a balanced approach to decision-making. I examine the impact of any decision using the following lenses: how will it affect our students, how will it affect our teachers and staff, can we afford it, and is it in the best interests of all of our county stakeholders. This balanced approach is the only way to ensure that we make the right decisions and continue to serve the students, parents, teachers, and community at large.
5. I am focused on student achievement. This is critical, and is the primary mission of our school system. My goal is to design policy and direct our superintendent and senior team to achieve maximum impact for our students. I will work to help all students, regardless of current achievement level to continue to grow.
QUESTION: How are you different from your opponent(s) in your philosophy and your approach to this elected office?
I do not have a current opponent at this time.
I will reiterate that my focus on balanced decision making is critical to my success on the Board of Education.
I strongly believe we have to analyze everything we do to ensure we deliver maximum results for our community's most valuable resource — our children. I have a keen understanding on how my decisions impact students from an academic, social and emotional standpoint. I have to run the numbers on Board of Education spending decisions to ensure we can both afford the investment and justify the cost from a return-on-investment (ROI) lense. My decisions have to reflect both our community's values and sound fiscally conservative policy. I will continue to work with our teachers and our parents. I will aggressively seek input from community stakeholders.
I understand the challenges we face as a school system with social and emotional health. Our students are in crisis. I will continue to push to create policy to change this.
I am not afraid to take a stand and make the tough decisions. As I complete my first term, I see first-hand the areas we need to improve on inside of the Board of Education. I will ensure that our Superintendent and his/her staff is focused on addressing these issues.