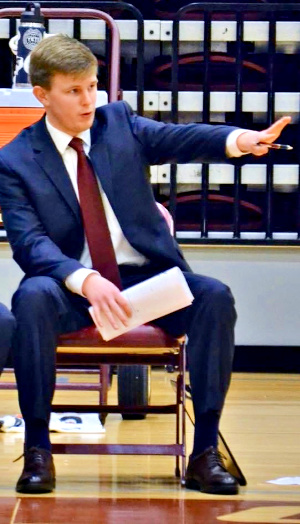 Landmark Christian School is excited to announce the hiring of Brandon Cerezola as the new head coach of the varsity boys basketball team. Coach Cerezola comes to Landmark Christian with an impressive background of success.
Landmark Christian School Director of Basketball, Lady Hardmon Grooms shared, "I can't say enough about how talented and extraordinary Brandon Cerezola is. He is young with an old school approach to the game. He teaches the game the right way because the fundamentals matter to him. Coach Cerezola is a true student of the game and I know he will go above and beyond to make this program successful."
After a year as a graduate assistant coach at his alma mater, Truett-McConnell University,
Cerezola became one of the youngest coaches at the collegiate level, at age 23, to head the program at Hiwassee College in Madison, Tennessee. He led the team to a 22-5 record which was the most wins in the college's 170-year history receiving an at-large bid to the National Tournament. Cerezola would later move on to coach at Schreiner University, an NCAA program in Kerrville, Texas where he also served as the Sports Information Director.
"We are excited to welcome Brandon back home to coach Landmark Christian basketball," Athletic Director Mark Caulfield said. "His enthusiasm, passionate faith, and success as a basketball player from high school through his college career and as a college coach make him such an amazing hire for our student-athletes at Landmark Christian."
Coach Cerezola is looking forward to returning to Georgia and being closer to family while sharing his faith and passion for basketball to Landmark Christian and the surrounding community.
"I'm thankful God allowed my path to cross with Landmark Christian School and I look forward to seeing His plans unfold through our basketball program. I also want to thank Landmark's leadership for entrusting me with this program. I believe this is what God has called me to do, giving back to the game I love and learned so much from. Our program will play hard and with passion, and we will enjoy playing this game together. I'm excited about helping take this program to the next level."
Coach Cerezola will begin his duties in August in preparation for the beginning of the basketball season as well as serving in the Athletics Department and as the school's Sports Information Director.
Landmark Christian School has two convenient campuses, Peachtree City (K4-4th grade) and Fairburn, Georgia (K4-12th grade), and is now enrolling. For more information about Landmark Christian School, to tour, or to inquire about admission, TourLandmark.org or visit ​landmarkchristianschool.org​ or call 770.692.6742.