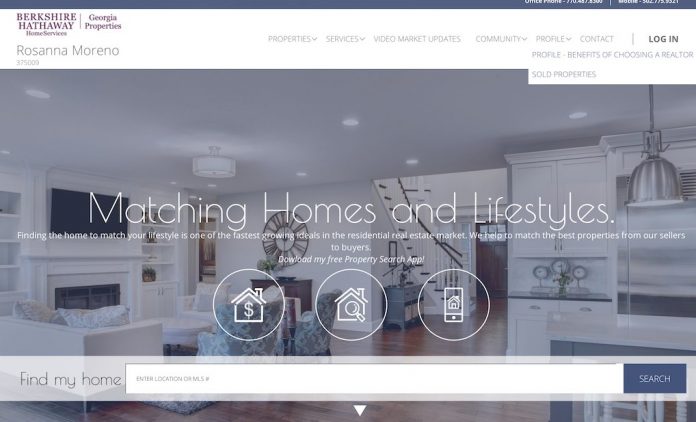 OPEN FOR BUSINESS!
Name of Your Business or Organization
Rosanna Moreno REALTOR with Berkshire Hathaway HomeServices Georgia Properties
Describe your business, service, or product.
Understand our clients' goal, submit value information, and guide them to make smart decisions on the buying or/and selling of your house. So they can be confident in every step of the process.
What is the most important thing you want people to know about you, your company or organization?
We are here to make the buying and selling of your house a enjoyable process. We focus on understand your goals to better service you from start to finish.
Are you open or available for business?
Yes. Monday to Friday, 9 a.m. to 5 p.m. Virtually through Face Time and Zoom, or in person at the Peachtree City BHHS office.
What COVID-19 mitigation strategies are you employing?
We are following all CDC protocols, phone and virtual consultations, virtual open houses and tours.
What are a few things you can do to solve problems and improve the lives of your customers?
We understand the local market, the buying and selling process, we have trusted partners to help you and work for your interests. We make your transactions easier to understand, and less stressful for you.
If you sell products, tell us about them and list some of the most popular items you sell.
Residential real estate for families and investment.
What sets you apart from your competitors?
Your goals are our priority. Our marketing strategy and unique business partners.
What special offerings, seasonal or upcoming events would you like people to know about?
Besides our regular marketing strategies where your property is in 40,000 websites, our relocation department, direct mail, social media, 3D videos, Zillow partnership, among others. We are doing virtual tours, open houses and closings.
Awards, Accolades, Certifications
We are consistently ranked #1 for representing home buyers and sellers.
What do you love most about what you do?
Use my knowledge and experience to help my clients buy and sell with confidence. My priority is to understand your goals, represent you, and make this a pleasure experience.
Is there anything else you want us to convey to customers or the community?
I am your trusted real estate helper.
If you have any thoughts of selling or buying your house in the next months, please contact me to start the conversation.
Address
300 Clover Reach, Peachtree City, GA 30269
www.rosannamoreno@BHHSGeorgia.com
email: Rosanna.Moreno@BHHSGeorgia.com
Facebook and Instagram: Rosanna Moreno REALTOR, cell: (502)775.9321