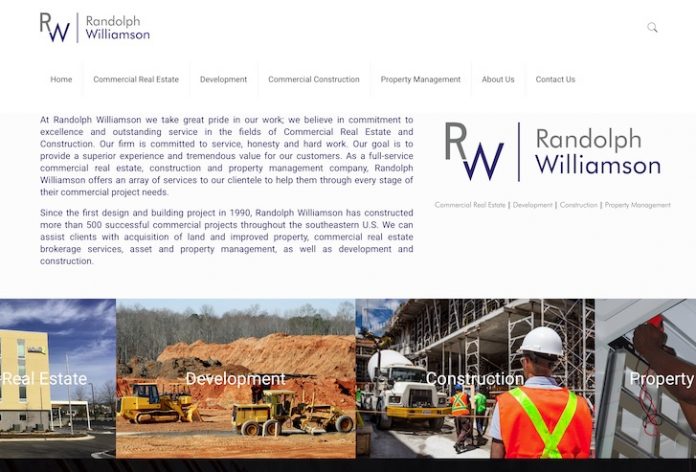 OPEN FOR BUSINESS!
Name of Your Business or Organization
Randolph Williamson
Describe your business, service, or product.
Commercial Real Estate, Development, Construction, Property Management
What is the most important thing you want people to know about you, your company or organization?
Randolph Williamson is working! The health and safety of our clients and employees is important to us. We implemented protocols including remote work and social distancing, among others.
On the real estate side, we offer safe showings. Deemed essential, work safely continues for our construction division as it does in development.
Property Management is also working and able to help with full service asset management or routine commercial maintenance.
We utilize technology to minimize contact and maximize our ability to efficiently, safely communicate with clients. Now more than ever, rely on Randolph Williamson (RW) to help you expertly navigate all things commercial: Real Estate, Development, Construction, and Property Management. We're keenly aware of today's challenges, and we're dedicated to assisting clients through them. We're in this together!
The pause you may have on your plans is temporary. Professional service from Randolph Williamson isn't! Call us: 770.632.4000 or email info@rwcre.net. Visit www.rwcre.net.
Are you open or available for business?
Yes, available by appointment. Most team members are working remotely.
We never closed but most staff began working from home. Some principals worked from the office but it remains open by appointment only.
What COVID-19 mitigation strategies are you employing?
Working remotely, social distancing, safe showings for real estate
What are a few things you can do to solve problems and improve the lives of your customers?
As this crisis forces businesses to reevaluate their commercial real estate needs, Randolph Williamson can help. Our real estate division can help find a commercial space that's the best fit for a business. We can list and market properties for sellers or help buyers/lessees/tenants find the right space.
RW's development division can help from concept to completion or "from trees to keys." The construction team at Randolph Williamson can help with anything from new builds to renovations to tenant buildouts, again making sure commercial space suits the client's needs.
Last but never least, RW Property Management can make easier the routine care and upkeep of commercial space. We offer full service property management or routine commercial maintenance. Again, the pause plans is temporary. Professional service from Randolph Williamson isn't!
If you sell products, tell us about them and list some of the most popular items you sell
Excellent professional service is our product.
What sets you apart from your competitors?
Randolph Williamson's market knowledge, experience and expertise in all things commercial: real estate, development, construction, property management. Our firm is committed to service, honesty and hard work. Randolph Williamson's goal is to provide a superior experience and tremendous value for its clientele. As we evolve with our clientele and the industry, we maintain the attributes that made us successful: our homegrown service and culture, our honest approach, and our commitment to hard work at a fair price.
What special offerings, seasonal or upcoming events would you like people to know about?
Stay tuned for more information on the Building God's Way Seminar to be hosted by Randolph Williamson construction this fall.
Awards, Accolades, Certifications
In March of this year, Mike Calhoun, General Superintendent and Safety Coordinator for Randolph Williamson's construction division, was recognized by the AGC (Associated General Contractors of Georgia) with an Amerson Supervisor Safety Award for zero lost time accidents in 2019.
On the real estate side, Broker Brent Randolph and James Clark were again recognized as members of the Million Dollar Club by the Atlanta Commercial Board of REALTORS (ACBR).
Members exemplify the highest caliber of real estate professionalism and service, honoring those REALTORS® who have produced real estate volume production of $5M or more in commercial sales and leasing activity in 2019.
Is there anything else you want us to convey to customers or the community?
We WILL get through this together. It may change things — in some ways for the better — but together we will not just survive but THRIVE!
Contact Randolph Williamson for all your commercial needs!
Address
900 Westpark Dr. Suite 300, Peachtree City GA 30269
rwcre.net, info@rwcre.net, 770-632-4000
— Robin Stewart, rstewart@rwcre.net