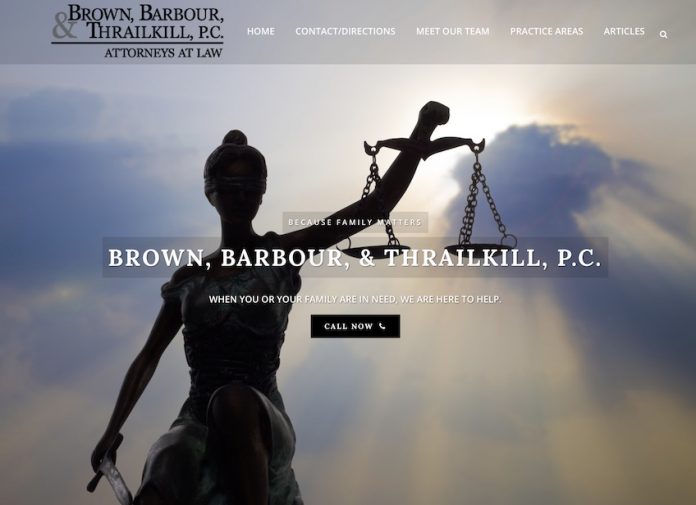 OPEN FOR BUSINESS!
Name of Your Business or Organization
Brown, Barbour, & Thrailkill, P.C.
Describe your business, service, or product.
Attorneys-at-law
What is the most important thing you want people to know about you, your company or organization?
We are a Family Law Firm. That does not mean that we only practice family law (although we do practice that). We dedicate our practice to areas of law that personally affect you and your family — family law (including divorce), criminal defense (including DUI defense), and wills & probate (including power of attorney and advanced health care directives). We also will represent you as if you are a member of our family.
Are you open or available for business?
Yes, 8:30 a.m. to 5:30 p.m., telephone appointments only.
What COVID-19 mitigation strategies are you employing?
We are not having in-office appointments, and we are handling signings virtually through Zoom. We can notarize documents (including wills) while you are at home.
What are a few things you can do to solve problems and improve the lives of your customers?
We can assist with drafting and/or updating your will. We can assist with your family law needs (getting a divorce, enforcing child support obligations, modifying child support obligations). We can assist if you or a loved one are charged with a crime.
What sets you apart from your competitors?
Our dedication to zealous advocacy for you. You are not simply a case with our office. You are more than that to us.
What special offerings, seasonal or upcoming events would you like people to know about?
We include a free Advanced Health Care Directive (what people commonly refer to as a Living Will) with all wills that we draft.
What do you love most about what you do?
Helping people
Is there anything else you want us to convey to customers or the community?
I (Clint Barbour) am a local product — I grew up in Peachtree City, graduated from Starr's Mill High School, and moved back to the area to start my legal career.
Give us a call to discuss drafting or updating your will.
Address
465 N. Jeff Davis Drive Fayetteville, Georgia 30214
www.bbtlawgroup.com
www.facebook.com/bbtlaw/
office@bbtlawgroup.com
770-461-2025
clint@bbtlawgroup.com
— Clint Barbour, clint@bbtlawgroup.com