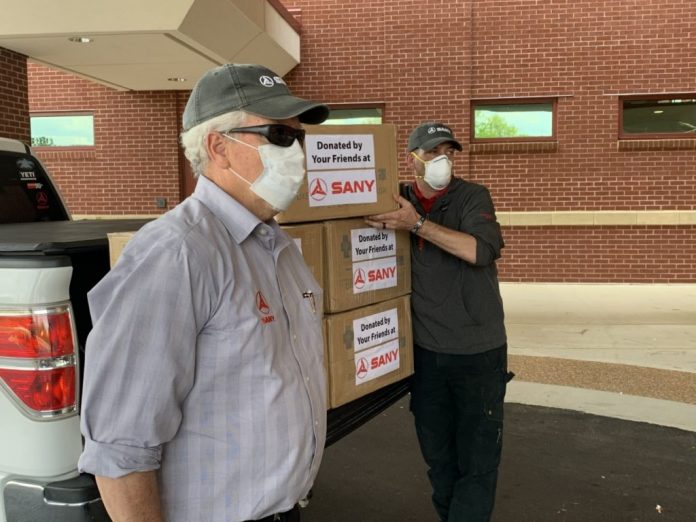 Construction equipment manufacturer SANY donates personal protective equipment to area hospitals, Georgia Department of Public Health — 
Peachtree City-based industry SANY America recently donated 10,000 medical-grade face masks to Piedmont Fayette Hospital in Fayetteville.
Through its corporate contacts, SANY America was able to source the disposable facemasks. These masks are among the most critical personal protective equipment needed by medical employees, and have been increasingly difficult to source with the incredible surge in demand.
SANY America supplied an additional 30,000 masks to Phoebe Putney Memorial Hospital in Albany, Ga. This hospital serves Dougherty County, which has seen the highest number of fatalities from coronavirus in the state, making the hospital one of the facilities most in need during the crisis.
"We know that the current situation has impacted everyone, from here in Georgia to every corner of the world," said Doug Friesen, CEO of SANY America. "We were fortunate to have facemasks available at our headquarters facility, and wanted to do what we could to help those workers and facilities helping to keep our neighbors, our employees and our families healthy and safe during this crisis."
SANY America has also worked to support internal staff and dealer partners. For team members working on site at the Georgia headquarters, SANY America has provided remote work options when possible.
For manufacturing team employees, the company offered paid leave for staff when work was temporarily halted in April, and has since adjusted the workflow of the production line to accommodate social distancing guidelines now that operations have been allowed to resume.
The company's parts team has remained on the job throughout, supported by remote call center staff, using internal staff rotations, and employing safe working protocols and social distancing, along with other CDC recommendations, allowing for some continuity of service for equipment owners and dealers.
To support the network of SANY dealers, SANY America has also provided more than 13,000 of its medical-grade masks to dealers for their employees who work with customers on a daily basis. Members of the SANY America management team have also personally reached out to speak with dealers across the nation to discuss their needs and current situation and to offer support.
"Our dealers are the backbone of the SANY experience for many of our customers," said Friesen. "They help support the equipment, handle maintenance, and provide service and parts ordering assistance. They play a critical role, and we want to do all that we can to make sure that we're providing them with the support they need to keep delivering on promise of SANY America."
SANY manufactures, sells and supports construction and material handling equipment, including crawler cranes, rough terrain cranes, excavators, container reach stackers and empty container handlers. The company handles SANY brand equipment sales and support in the United States, Mexico and Central America.
SANY America's headquarters in Peachtree City, Ga., includes 340,000 square feet of manufacturing space and 60,000 square feet of office space. Excavators are assembled at the facility, which has the capacity to produce more than 2,000 units per year. In addition to assembly, the Peachtree City facility performs machine testing, touch-up painting and distribution.