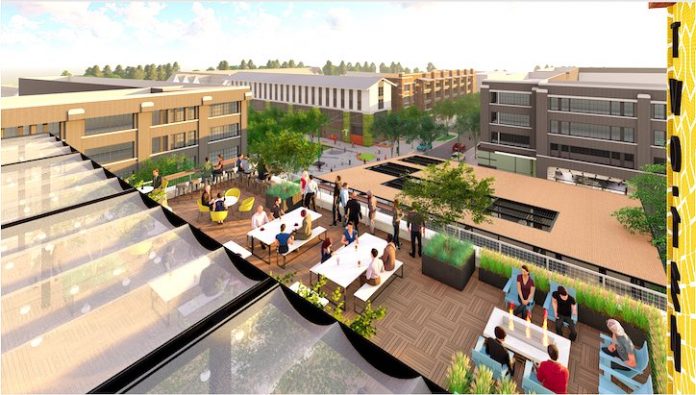 The 4-story Two-Ten office and retail at Pinewood Forest, a project of Pace Lynch Corp., is expected to be completed this spring, and opening later this year.
The 52,824-square-foot building that includes creative, collaborative office and retail space, is scheduled to open later this year. Groundbreaking for the building was held last May.
The building will be situated adjacent to the Piedmont Wellness Center on J. Arthur Rank Avenue. Two-Ten will include street-level restaurant and retail space, three levels of creative loft and medical office space and a 2,500 sq. ft. rooftop with a restaurant and bar.
The façade will feature locally sourced mid-1800s brick reclaimed from the Langdale Mill in Valley, Alabama.
"I can't tell you how excited we are to be here today, in the beautiful city of Fayetteville. This will be a best-in-class mixed-use building for the Fayetteville and the south metro Atlanta market," said Jason Pace at the groundbreaking. "Sustainability blending together with great design is something we want to be intentional about. We are thrilled to be reclaiming locally sourced bricks that were once hand-packed into wooden molds then fired in an earthen kiln on the shores of the Chattahoochee River in the late 1800s."
Wakefield Beasley and Associates designed the office building, complete with 10-foot-high floor to finished ceiling windows and concrete floors. Loft office and retail areas will feature 14- and 20-foot ceilings respectively.
"The unique look of this building, with reclaimed brick, black metal trim and soaring ceilings, will perfectly complement the informal vibe and distinct design of the Pinewood Forest community," said Lamar Wakefield of Wakefield Beasley and Associates.
"As we create a dynamic, walkable downtown for south metro Atlanta with the best food, hotel and entertainment options in the market, this mixed-use office/retail/entertainment complex adds an exceptional option to the mix of professional workspace offered at adjacent Pinewood Atlanta Studios, nearby Piedmont Fayette Hospital, and the extensive corporate community within minutes of Pinewood Forest," added Bill Lynch, project director for Pinewood Forest and principal of Pace Lynch Corporation.