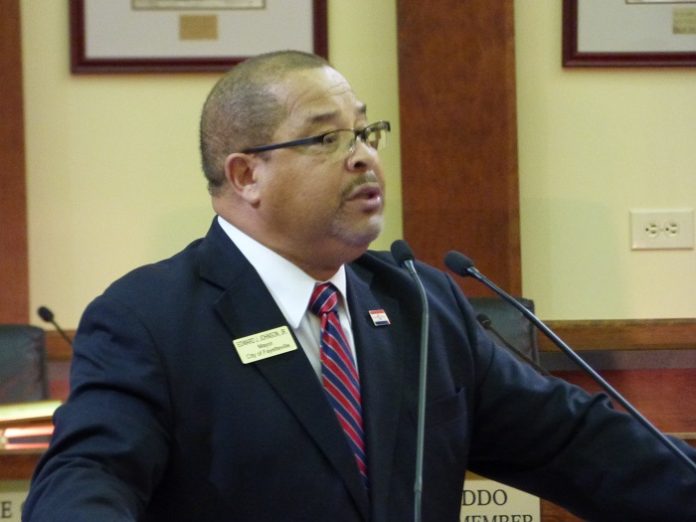 Fayetteville Mayor Ed Johnson on March 20 issued a statement on the city's response to the COVID-19 pandemic. Though the city has issued no social distancing or business closure measures, Johnson encouraged citizens to adhere to guidelines from the Ga. Department of Public Health.
"City of Fayetteville leaders are in continuous communication with county and state health official regarding the coronavirus pandemic, and we are grateful for the community's patience and cooperation as we navigate this challenging time," said Johnson.
"While the City of Fayetteville has not mandated any social distancing or business closure measures, we do stand with the Georgia Department of Public Health in encouraging the following guidance expressed by the District 4 Public Health office.
"Based on the Centers for Disease Control recommendations regarding social distancing, District 4 Public Health recommends food service facilities go to a carryout/drive-thru only model. Facilities who decide to continue in-house dining are strongly encouraged to remove at least half of their seats in an effort to limit the number of customers to provide social distancing. Facilities are required to continue using proper protocols for cleaning and sanitizing frequently used surfaces. Please take these measures to protect your employees and customers."
Johnson said the city's website, www.Fayetteville-GA.gov, has been updated repeatedly since the coronavirus pandemic was declared. Click the COVID-19 at the top, and you will find many helpful resources there about the pandemic. The website includes information about how residents and other city customers can continue engaging the government remotely while city buildings are closed to the public. Many services and accounts can be accessed online, and a special page has been built to aggregate that information: www.Fayetteville-GA.gov/Transactions.
"As always, the City of Fayetteville Public Safety and other essential services, such as water, sewer, and solid waste collections, are operating as normal. In an emergency, dial 911," said Johnson. "Again, thank you for your cooperation and understanding as the City of Fayetteville continues to adjust and adapt to the coronavirus situation in order to better protect and serve the community, 'our small business owners,' and our employees."​