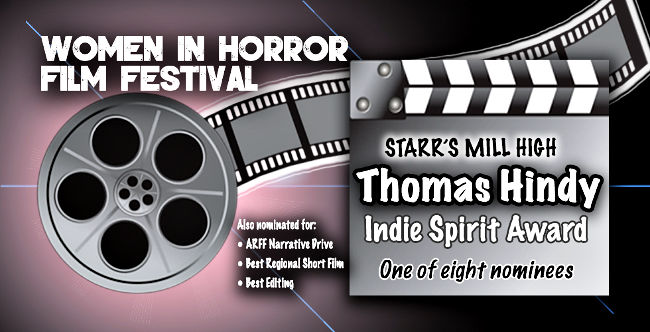 The film community is taking notice of a budding filmmaker at Starr's Mill High as he garners four nominations and one win at an international film festival.
Thomas Hindy, a senior, was the winner of the Indie Spirit Award given at the Women in Horror Film Festival for his independent film, "Framed." Hindy was one of eight nominees in the category. As the winner, he was presented with a one-of-a-kind "Lizzie" trophy. Each trophy is hand-painted, ensuring that no two Lizzies are exactly alike.
Hindy was also nominated in three additional categories: ARFF Narrative Drive, Best Regional Short Film, and Best Editing.
Hindy's film was among 86 short films that were screened at the festival from filmmakers around the world. All submissions were rated and scored by a special guest jury that included actress and filmmaker Heather Langenkamp (A Nightmare on Elm Street); producer Marianne Maddalena (Scream); special makeup FX artist Christine Ramirez (Hidden Figures); director and special makeup FX artist Robert Green Hall (Teen Wolf series); filmmaker Adam Marcus (Friday the 13th); special makeup FX artist Nora Hewitt (SyFy's FaceOff season nine winner); author, journalist and podcaster Scott Bradley (Screaming for Pleasure, Hellbent for Horror).
The festival was held last month at the historic Strand Theater on the Marietta Square.