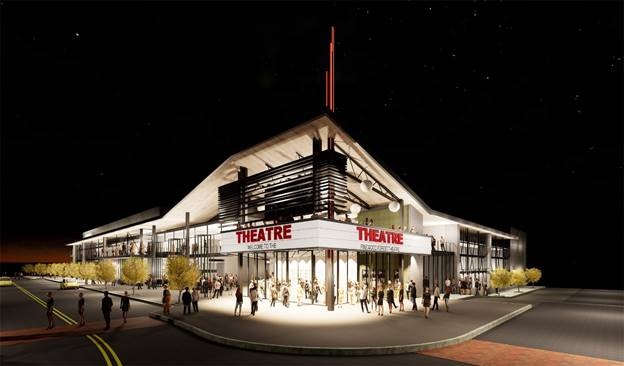 One screen will be on the rooftop for outdoor viewing experience — 
Pinewood Forest on Feb. 18 announced the groundbreaking for the nine-screen Spotlight Theatres luxury cinema, expected to open in early 2021.
Pace Lynch Corporation and Spotlight Theatres have partnered to develop and operate the theatre, according to Cookerly Public Relations.
The cinema, which is expected to host blockbuster premieres for movies such as those filmed at Pinewood Atlanta Studios, corporate functions and live broadcasts of sporting events, will seat approximately 850 patrons in its nine theatres. The ninth screen (Screen 9) will serve as the building's outdoor rooftop experience. The attraction is expected to bring more than 300,000 visitors to Fayetteville's Pinewood Forest community annually, Cookerly said.
"We are excited to create a unique and innovative boutique theatre celebrating the artistry of film," said Rob Parker, president of Pinewood Forest. "There is no place more fitting to observe Georgia's major contribution to the film industry than within arm's reach of North America's largest production facility, Pinewood Atlanta Studios."
The theatre will be situated within the 25-acre Town Center at Pinewood Forest. The surrounding area will include a boutique and select-service hotel, office spaces, a variety of shops and restaurants, as well as the Piedmont Wellness Center, a 60,000-square-foot state-of-the-art wellness facility which opened in November of 2019, according to Cookerly.
"The theatre's timeless exterior and best-in-class digital features, including the highest-quality sight and sound presentation, are designed to create a viewing experience unlike any other," said Bill Lynch, principal of Pace Lynch. "We are excited to partner with Spotlight Theatres to introduce a cinema that will attract visitors to Pinewood Forest from across metro Atlanta."
Pinewood Forest's theatre, boasting Immersive Digital Audio complementing digital 4k projection, will produce an enhanced patron experience. VIP luxury seating that reclines with wide spacing for legroom will be positioned in front of state-of-the-art wall-to-wall screens. Amenities will include online advanced ticketing, will-call, reserved seating and an expanded concession menu.
"Our team is excited to help bring this movie-going experience to Pinewood Forest and the Fayette County community," said Joseph Paletta III, President and CEO of Spotlight Theatres, Inc. "We are confident this entertainment venue will far surpass expectations in terms of technology and service."