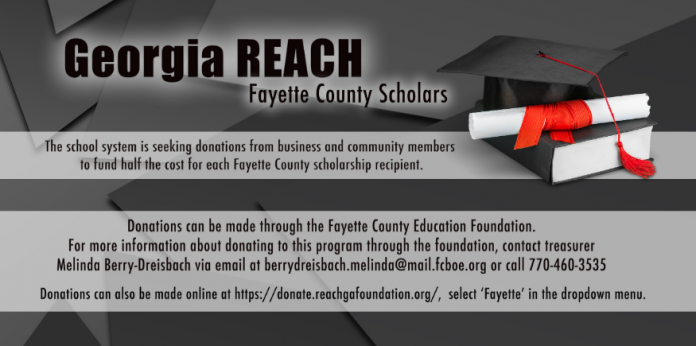 This year the Fayette County Public School System awarded eight students a $10,000 college scholarship as a part of the REACH (Realizing Educational Achievement Can Happen) Georgia Scholarship program. REACH Georgia is a state public-private needs-based scholarship opportunity designed to encourage students, beginning in middle school, to continue their educational pursuits beyond high school.
These eight students were the first group from Fayette County Public Schools to receive college scholarships from REACH Georgia to continue their educational pursuits beyond high school. The initial award after they graduate from high school is $10,000 over four years, but that amount could increase to $20,000 if they attend a HOPE-eligible college or to $30,000 if they enroll in one of the institutions that will double-match it.
Full funding for the scholarship's first year is being provided through the Georgia Student Finance Authority. For the upcoming school year and years to come, the school system is seeking donations from business and community members to fund half the cost ($5,000) of each scholarship. These donations will be made through the Fayette County Education Foundation, a nonprofit 501 (c) 3 organization that solely supports Fayette County Public Schools. The contributions will support the continued education for our student's successful futures.
All donations are tax deductible. For more information about donating to this program through the foundation, contact treasurer Melinda Berry-Dreisbach via email at berrydreisbach.melinda@mail.fcboe.org or call 770-460-3535. Donations in the form of checks or money orders can be mailed to Melinda Berry Dreisbach, Fayette County Board of Education, 105 LaFayette Avenue, Fayetteville, Georgia 30214. Please indicate on the check or money order that the donation is for the REACH Georgia Scholarship. Donations can also be made online at https://donate.reachgafoundation.org/, select 'Fayette' in the dropdown menu.
For more information about the school system's Georgia REACH scholarship program, contact Virginia Gibbs, coordinator of innovative partnership development, at gibbs.virginia@mail.fcboe.org or 770-460-3990 ext. 1145.