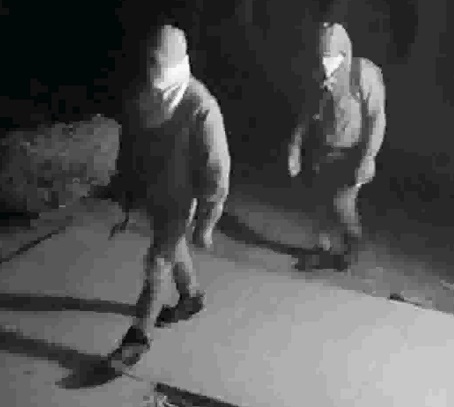 Two men who burglarized a gun store at Ga. Highway 54 and Burch Road in Fayetteville had their effort cut short when the security alarm activated before they could access the firearms. They fled the location and are being sought by Fayetteville investigators.
Fayetteville Police Department spokesperson Ann Marie Burdett said officers on Feb.10 at approximately 12:20 a.m. were dispatched to an intrusion call with multiple glass break sensors activated at Coe Firearms.
"Upon arrival, police searched the area immediately outside of the business before searching the interior of the building," Burdett said. "Before making entry, police observed that a sidelight window adjacent to the front door was shattered and the door was unlocked."
Police searched the building for any unauthorized individuals. No one was found inside the building. The door leading to where the firearms were stored was not accessed at that time, Burdett said.
Burdett said the keyholder was contacted and arrived on the scene to assist police in the search of the remaining parts of the business, with the business owner reporting that nothing appeared to be stolen.
"Surveillance cameras indicated minutes before the alarm was activated, there were two subjects walking around the building wearing hooded sweatshirts, beanie-type hats, and t-shirts covering their faces. The subjects can also be seen carrying a duffle bag and what appeared to be a metal object," Burdett said.
Burdett said the men could be seen smashing the glass window by the front door.
"Once inside, the subjects went to a room that did not contain any items that could be taken. At that time, the security alarm was activated which caused the suspects to flee the location," said Burdett.