Over many years, customers of McDonald's and Chick-fil-A in central Peachtree City have been used to making left turns from the fast-food restaurants onto Ga. Highway 54 northbound. That's about to change.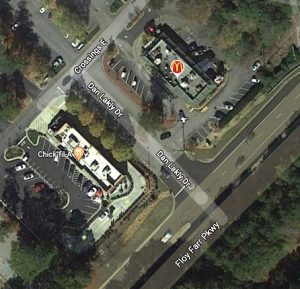 Acting without discussion Feb. 6 on a consent agenda item, the Peachtree City Council approved spending nearly $72,000 to fundamentally change how motorists access Hwy. 54 from Dan Lakly Drive in the center of town and the crossing at Governor's Square about a mile northeast of that spot.
Both those crossings have no traffic signal, but soon each will feature a "reduced conflict U-turn" — also known as an R-Cut — as a way to make left turns onto Hwy. 54.
From the Georgia DOT explanation of "What is an RCUT and how does it work":
"An RCUT is an intersection design that reduces crashes by changing how minor road traffic crosses or turns left at a major road, reducing the potential conflict with other vehicles.
"At an RCUT, minor road traffic must turn right. Left turn and through movements from the minor road are accomplished through the use of a downstream U-turn. All movements (left, though, and right) are allowed from the major road.
"For example, drivers who would turn left from the minor road at a conventional intersection must now turn right instead, then make a U-turn at the designated location.
"Drivers who would cross the main highway once reaching a conventional intersection must now turn right first, make a U-turn at the designated location and then turn right onto the adjoining side street at the RCUT intersection."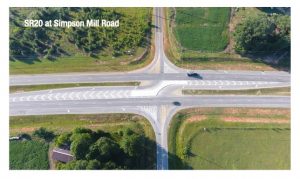 The pluses for the new design, says the DOT, are as follows:
• Reduce the number and severity of vehicle-to-vehicle conflict points by approximately 50 percent in comparison to conventional intersections.
• Supports a community's pedestrian and bicycle goals as provisions for walking and biking can shape the RCUT design.
• Reduces delay and congestion for through traffic on major road.
• Reduces queuing on the minor road because vehicles do not have to wait for gaps in traffic traveling in two directions.
• Installing RCUT intersections is accomplished in much shorter timeframes than traditional intersections that require more extensive roadwork, greatly reducing cost.
• Provides local access to a main highway while delivering safer, more efficient travel.
• Provides access to local businesses and commercial areas because the U-turns accommodate all movements.