Wishes do come true.
In 2018, on the day after kindergarten orientation at Landmark Christian School when other children were eagerly anticipating their first days of school, Cameron Ward, only five and a half years old, was diagnosed with a rare form of lymphoma. His treatment required six months of chemotherapy during which he was often scared and missed his four older siblings.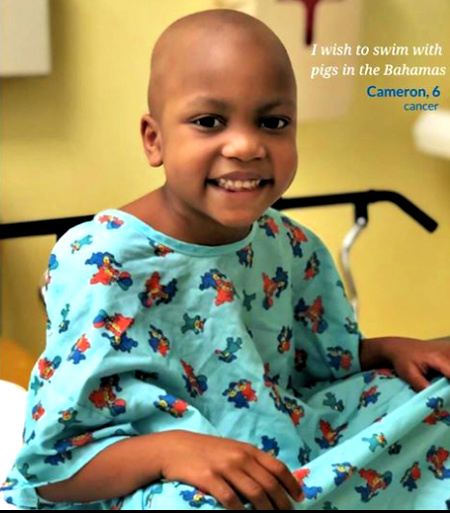 While in the hospital during the six rounds of chemotherapy and long hours of treatment his mom, Erica Ward showed Cameron videos to distract and to entertain him. One of those videos was watching people swimming with the pigs at Pig Island, Bahamas. Cameron thought this was so funny and his mother noted it was the first time she had seen him laugh in a long time. Later, when asked by Make-A-Wish Foundation what his wish would be, Cameron could not stop thinking of those pigs! He wished that he and his family would all swim with the pigs.
Cameron, now cancer-free and a vibrant first-grader at Landmark Christian School was recently granted that wish.
Cameron's mom, dad, grandparents, siblings, and the elementary school at Landmark joined the surprise which kicked off at Landmark Christian.
"Landmark was such a big part of Cameron's recovery," his mom, Erica, said. His teachers, classmates, other parents, the principal, administrators, and the spiritual life team prayed for Cameron and were supportive every step of the way."
"When Cameron joined the class mid-year, with all of the interaction with the Landmark family during the first six months, he felt he wasn't a new student. The transition was easy. He belonged. We are grateful for Landmark and the love they have shown Cameron and our family and are happy they are part of today's celebration."
Cameron and his classmates at Landmark Christian School in Fairburn were surprised on Tuesday, December 3, with the first leg of the wish journey, a celebration of Cameron's December birthday. The elementary halls were adorned with elaborate balloon towers and arches befitting a grand celebration. The entire elementary school, students, faculty and staff, and administrators, lined the walkways to cheer for Cameron and his classmates as they made way to awaiting transportation.
Classic Subaru provided vehicles for his family to travel to the dealership where the birthday celebration was held and the Landmark bus filled with Cameron's first-grade class followed closely behind. It was at the dealership that Make-A-Wish revealed that Cameron's wish was granted.